01.12.2015 | Research article | Ausgabe 1/2015 Open Access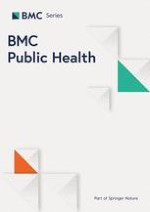 Public response to the 2014 chemical spill in West Virginia: knowledge, opinions and behaviours
Zeitschrift:
Autoren:

Elena Savoia, Michael A. Stoto, Rahul Gupta, Nasandra Wright, Kasisomayajula Viswanath
Wichtige Hinweise
Competing interests
The authors declare that they have no competing interests.
Authors' contributions
ES conceptualized the study and analyzed the data, MS provided support in the development of the survey questions and interpretation of the statistical findings, NW provided support in the interpretation of finding and development of the discussion, RG provided support in the interpretation of findings and contextualization of the risk communication strategy and lessons learned from the practitioner's point of view, KV supervised the conduction of the study and provided input in the interpretation of results and write up of the manuscript. All authors read and approved the final manuscript.
Abstract
Background
On January 9th 2014, a faulty storage tank leaked 10,000 gal of an industrial coal processing liquid into the Elk River in West Virginia (WV), contaminating the drinking water of the nine counties collectively known as the Kanawha Valley. The aim of this study was to 1) explore how and when people obtained information about the water contamination and 2) understand how individual and social factors such as socio-demographic characteristics, timing of information, trust in government, and risk perception influenced compliance with recommended behaviours and the public's views on the need for environmental regulations.
Methods
Between February 7–26, 2014, a survey was conducted of adult residents of West Virginia including geographic areas affected and non-affected by the chemical spill. The total population-based sample size was 690 and the survey was administered online. Descriptive statistics and multivariate statistical models were created to determine what factors influenced compliance and public opinions.
Results
Findings from this study show that, during the 2014 West Virginia water crisis, information about water contamination spread quickly, as 73 % of survey respondents across the state and 89 % within the affected counties reported they heard about the incident the same day it occurred. Most people received the information promptly, understood what happened, and understood what to do to prevent exposure to the contaminant. The majority of respondents living in affected counties (70 %) followed the recommended behaviours. Among participants who voiced an opinion on the role of government in environmental regulations, the majority of respondents (54 %) reported there is "too little regulation."
Conclusion
Data from this study show that a higher perception of risk and timely receipt of information are associated with compliance with recommended behaviours, underlying the importance of releasing information to the public as quickly as possible during a crisis. This study also highlights the importance of coordinating risk communication activities beyond the area of the incident to assure public understanding of what measures are recommended, which are not and where.