01.12.2014 | Case report | Ausgabe 1/2014 Open Access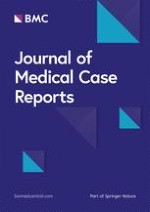 Pulmonary epithelioid hemangioendothelioma presenting with vertebral metastases: a case report
Zeitschrift:
Autoren:

Angela Sardaro, Lilia Bardoscia, Maria Fonte Petruzzelli, Anna Nikolaou, Beatrice Detti, Giuseppe Angelelli
Wichtige Hinweise
Competing interests
The authors declare that they have no competing interests.
Authors' contributions
AS analyzed and interpreted the patient data regarding the physical, radiological and histological examinations, elaborated the radiation treatment plan and was a major contributor to the writing of the manuscript. LB reviewed the available literature. MFP and AN assembled this report. BD and GA supervised the work. All authors read and approved the final manuscript.
Abstract
Introduction
Epithelioid hemangioendothelioma is a rare vascular tumor that has an epithelioid and histiocytoid appearance, originates from vascular endothelial or pre-endothelial cells and comprises less than 1% of all vascular tumors. It was described for the first time in 1975 as pulmonary epithelioid hemangioendothelioma, because initially it was believed to be an aggressive form of bronchoalveolar cell carcinoma with a remarkable propensity to invade adjacent blood vessels and small airways. Only a few cases have been reported in the literature to date. Tumor cells expressing Fli-1 and CD31 have been identified as relatively specific endothelial markers. Epithelioid hemangioendothelioma may affect multiple organs and may vary considerably in its clinical and radiological presentation. More than 50% to 76% of pulmonary epithelioid hemangioendothelioma patients are asymptomatic. They are usually incidentally diagnosed on the basis of abnormal chest radiography during routine physical examinations. Hematologic and gastrointestinal disorders and weakness or numbness may also be observed, in addition to respiratory symptoms, in cases of disseminated pulmonary epithelioid hemangioendothelioma. Pain and swelling, pathological fractures, spine compression or paresthesia, loss of muscular strength and paraplegia may be present when bone metastases occur. Because of the rarity of this disease, there is no standard for treatment.
Case presentation
A 46-year-old Caucasian woman presented to our institution in November 2009 with metastases of pulmonary epithelioid hemangioendothelioma from the L3 and L4 vertebrae. A course of radiotherapy at a dosage of 3,000cGy delivered in individual doses of 200cGy/day for 5 days/wk to the L3 and L4 vertebrae led to the disappearance of the patient's lumbar pain without any detectable side effects. Percussion of the patient's vertebral spine was negative, and no radiological progression of bone disease was found at her 1-year follow-up examination.
Conclusion
Since epithelioid hemangioendothelioma was first correctly defined, several research groups have reported their experiences with epithelioid hemangioendothelioma irradiation. Further studies are needed to establish a standard radiation dose to be used for such a complex and extremely rare disease. In our present case, a radiotherapy dosage of 3,000cGy delivered in individual doses 200cGy/day for 5 days/wk allowed us to reach our goals: local pain control with good tolerance and better quality of life by the 1-year follow-up examination.