01.12.2018 | Research article | Ausgabe 1/2018 Open Access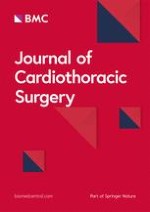 Pulmonary valve replacement after right ventricular outflow tract reconstruction with homograft vs Contegra®: a case control comparison of mortality and morbidity
Zeitschrift:
Autoren:

Nicolas Poinot, Jean-Francois Fils, Hélène Demanet, Hugues Dessy, Dominique Biarent, Pierre Wauthy
Abstract
Background
Repair of congenital heart defects involving the right ventricular outflow tract may require the implantation of a right ventricle to pulmonary artery conduit. This conduit is likely to be replaced during childhood. This study compares the operative outcomes of the replacement procedure of Contegra® and homografts in pulmonary position.
Methods
From 1999 to 2016, 82 children underwent 87 right ventricle to pulmonary artery conduit replacements (60 Contegra® and 27 homografts). Demographics, operative and clinical data were obtained through a retrospective review of the medical records. The two groups were matched for comparison using propensity score matching. All the procedures were performed by the same team of surgeons.
Results
No statistically significant difference was observed between the two groups when considering the operative data for anesthesia, surgery, cardiopulmonary bypass and aortic clamping durations. A peroperative complication rate of 13.47% and 15.36% in Contegra® and homograft replacement groups respectively (
p
value = 0.758) was observed. There was no difference regarding the blood loss and fluid input. No statistically significant difference was observed between the two groups for the post-operative morbidity. We considered the Pediatric Risk of Mortality (PRISM) score, the day of extubation, the day of withdrawal of inotropic drugs, the length of the intensive care unit stay and the length of hospital stay. The overall mortality is 2.3% but there is no statistically significant difference between the two groups.
Conclusion
Right ventricle to pulmonary artery conduit replacement procedure can be achieved with a low surgical morbidity or mortality, not influenced by the type of conduit that is replaced. Therefore, the choice between homograft or Contegra® for right ventricle to pulmonary artery reconstruction should not be influenced by the future surgical risk during the replacement procedure.
Trial registration
NCT03048071
. Registered 9 February 2017 (retrospectively registered).