01.01.2016 | Clinical Article - Brain Tumors | Ausgabe 1/2016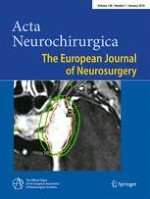 Pure endoscopic transsphenoidal surgery for functional pituitary adenomas: outcomes with Cushing's disease
Zeitschrift:
Autoren:

Sauradeep Sarkar, Simon Rajaratnam, Geeta Chacko, Sunithi Mani, Asha S. Hesargatta, Ari George Chacko
Wichtige Hinweise
Presentation at conference: This article has not been presented before, in part or whole.
Comment
This is a well-written report on purely endoscopic endonasal resection of ACTH-secreting adenomas. The series merits credit because of the large number of patients and relatively decent follow-up. A fairly large series of 64 patients underwent 69 procedures (5 repeat for persistent hypercortisolemia). Fifty-three microadenomas underwent varying extents of resection among adenectomy, enlarged adenectomy and hemihypophtsectomy. Eleven had macroadenomas. None of the findings are surprising or new [immediate hypocortisolemia associated with better outcome, worse outcomes in macroadenomas, and no relation between positive MR or histopathology and outcome (although the latter seems a bit unusual but might be related to a relatively small number of patients in each group)]. An 80 % remission rate at 20-month follow-up is consistent with the current broad literature on all patients with Cushing's disease.
Endoscopic endonasal transsphenoidal surgery for pituitary adenomas, both functional and nonfunctional, has become the standard of care, at least from my standpoint, and our group along with others has published several papers with similar or better results compared to traditional microscopic surgery even in the best of hands. This manuscript further validates the merits of endoscopic endonasal surgery in this regard.
Amir Dehdashti
NY, USA
Abstract
Background
This study was performed to examine patient outcomes following pure endoscopic transsphenoidal surgery (ETS) for Cushing's disease (CD).
Method
We studied 64 consecutive patients who underwent 69 endoscopic transsphenoidal procedures. Radiological evaluation comprised detailed examination of preoperative magnetic resonance images (MRI), including positron emission tomography (PET) for select cases. Inferior petrosal sinus sampling (IPSS) was not performed for any patient. Remission was defined by the presence of hypocortisolemia with requirement for steroid replacement therapy or eucortisolemia with suppression to <1.8 μg/dl after 1 mg dexamethasone on evaluation at least 3 months after surgery.
Results
Preoperative MRI was abnormal in 87.5 % of cases and included 11 macroadenomas (17.2 %). PET was used to localize the adenoma in four cases. For microadenomas, operative procedures executed were as follows: selective adenomectomy (n = 15), enlarged adenomectomy (n = 21) and subtotal/hemihypophysectomy (n = 17). Overall, pathological confirmation of an adenoma was possible in 58 patients (90.6 %). Forty-nine patients (76.6 %) developed hypocortisolemia (<5 μg/dl) in the early postoperative period. Mean follow-up was 20 months (range 6–18 months). Remission was confirmed in 79.7 % of the 59 cases followed up for >3 months and was superior for microadenomas (86.4 %) versus macroadenomas (55.6 %) and equivocal MRI adenomas (66.7 %). Postoperative CSF rhinorrhea occurred in five patients, and new endocrine deficits were noted in 17.1 % patients. A nadir postoperative cortisol <2 μg/dl in the 1st week after surgery was highly predictive of remission (p = 0.001).
Conclusion
ETS allows for enhanced intrasellar identification of adenomatous tissue, providing remission rates that are comparable to traditional microsurgery for CD. The best predictor of remission remains induction of profound hypocortisolemia in the early postoperative period.