01.12.2012 | Research | Ausgabe 1/2012 Open Access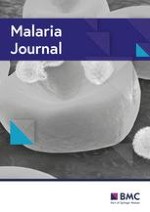 Pyronaridine-artesunate granules versus artemether-lumefantrine crushed tablets in children with
Plasmodium falciparum

malaria: a randomized controlled trial
Zeitschrift:
Autoren:

Kassoum Kayentao, Ogobara K Doumbo, Louis K Pénali, André T Offianan, Kirana M Bhatt, Joshua Kimani, Antoinette K Tshefu, Jack HT Kokolomami, Michael Ramharter, Pablo Martinez de Salazar, Alfred B Tiono, Alphonse Ouédraogo, Maria Dorina G Bustos, Frederick Quicho, Isabelle Borghini-Fuhrer, Stephan Duparc, Chang-Sik Shin, Lawrence Fleckenstein
Wichtige Hinweise
Electronic supplementary material
The online version of this article (doi:
10.​1186/​1475-2875-11-364
) contains supplementary material, which is available to authorized users.
Competing interest
IB-F and SD are employees of the Medicines for Malaria Venture, C-SS is an employee of Shin Poong Pharmaceutical Co. Ltd. There was no conflict of interest for KK, OKD, LKP, ATO, KMB, JK, AKT, JKHT, MR, PMdeS, ABT, AO, MDGB, FQ, or LF.
Authors' contribution
IB-F, SD, C-SS and LF made substantial contributions to the concept and design of the study. KK, OKD, LKP, ATO, KMB, JK, AKT, JKHT, MR, PMdeS, ABT, AO, MDGB, FQ and LF were involved in the acquisition of data. All authors contributed to the analysis and interpretation of data. All authors critically reviewed the paper and read and approved the final manuscript.
In addition to the named authors, the following co-investigators contributed to this study: Bakary Sidibé, Abdoulaye Djimdé (Mali); Berenger A. A. Ako, Aristide M'Lanhoro Coulibaly (Ivory Coast); Moses Omwoyo, Jacqueleen Wanjiru (Kenya); Nsengi Ntamabyaliro, Raoul Mpoyi Ngambua (Democratic Republic of Congo); Sabine Bélard, Florian Kurth (Gabon); Désiré Kargougou, David T. Kangoye (Burkina Faso); Jennifer Rabang (Philippines).
Presentation:
This study was presented in part at the 5th MIM Pan-African Malaria Conference, Nairobi, Kenya 2–6 November, 2009. Kassoum Kayentao et al. Phase III pivotal trial of pyronaridine artesunate versus artemether lumefantrine in paediatric patients with acute uncomplicated
Plasmodium falciparum
malaria. Abstract MIM16689330.
Abstract
Background
Children are most vulnerable to malaria. A pyronaridine-artesunate pediatric granule formulation is being developed for the treatment of uncomplicated
Plasmodium falciparum
malaria.
Methods
This phase III, multi-center, comparative, open-label, parallel-group, controlled clinical trial included patients aged ≤12 years, bodyweight ≥5 to <25 kg, with a reported history of fever at inclusion or in the previous 24 h and microscopically-confirmed uncomplicated
P. falciparum
malaria. Patients were randomized (2:1) to pyronaridine-artesunate granules (60/20 mg) once daily or artemether-lumefantrine crushed tablets (20/120 mg) twice daily, both dosed by bodyweight, orally (liquid suspension) for three days.
Results
Of 535 patients randomized, 355 received pyronaridine-artesunate and 180 received artemether-lumefantrine. Day-28 adequate clinical and parasitological response (ACPR), corrected for re-infection using polymerase chain reaction (PCR) genotyping (per-protocol population) was 97.1% (329/339; 95% CI 94.6, 98.6) for pyronaridine-artesunate; 98.8% (165/167; 95% CI 95.7, 99.9) for artemether-lumefantrine. The primary endpoint was achieved: pyronaridine-artesunate PCR-corrected day-28 ACPR was statistically significantly >90% (
P
 < .0001). Pyronaridine-artesunate was non-inferior to artemether-lumefantrine: treatment difference -1.8% (95% CI -4.3 to 1.6). The incidence of drug-related adverse events was 37.2% (132/355) with pyronaridine-artesunate, 44.4% (80/180) with artemether-lumefantrine. Clinical biochemistry results showed similar mean changes versus baseline in the two treatment groups. From day 3 until study completion, one patient in each treatment group had peak alanine aminotransferase (ALT) >3 times the upper limit of normal (ULN) and peak total bilirubin >2xULN (i.e. within the Hy's law definition).
Conclusions
The pyronaridine-artesunate pediatric granule formulation was efficacious and was non-inferior to artemether-lumefantrine. The adverse event profile was similar for the two comparators. Pyronaridine-artesunate should be considered for inclusion in paediatric malaria treatment programmes.
Trial registration
ClinicalTrials.gov: identifier NCT00541385