01.03.2012 | Regular Article | Ausgabe 2/2012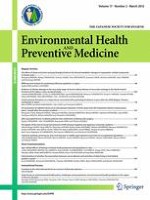 QOL-associated factors in elderly patients who underwent cardiovascular surgery
Zeitschrift:
Autoren:

Kiyoko Terashima, Yoko Yoshimura, Kazuyoshi Hirai, Yukinori Kusaka
Abstract
Objectives
Quality of life (QOL) was compared between elderly patients treated with cardiac surgery (cardiac surgery group) and general elderly nonoperated individuals (control group) to clarify differences in QOL-associated factors between the two groups.
Methods
The cardiac surgery group consisted of 82 patients aged 72.5 years at approximately 2 years after discharge, and the control group consisted of 95 elderly individuals aged 77 years living at home. QOL was measured based on interviews using two scales: disease-specific QOL and Short Form (36) Health Survey (SF-36) in the cardiac surgery group, and SF-36 in the control group. Associated factors included the Tokyo Metropolitan Institute of Gerontology (TMIG) index of competence, living with one's spouse, exercise habit, and the number of past medical history items.
Results
There was no cardiac surgery procedure-associated significant difference in disease-specific QOL. When comparing SF-36 between groups, the physical health level was significantly lower in the cardiac surgery group, but no significant difference was noted in the mental health level. Regarding physical health level of SF-36-associated factors, mental health level was a negative factor in both groups. In the cardiac surgery group, age was a negative factor. In the control group, the TMIG index and number of past medical history items were positive and negative factors, respectively.
Conclusions
As elderly people with high physical health levels after cardiac surgeries may have low mental health levels, physicians and nurses need to be aware and address this situation.