01.12.2017 | Research | Ausgabe 1/2017 Open Access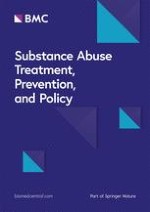 Quality measurers of therapeutic communities for substance dependence: an international collaborative study survey in Latin America
Zeitschrift:
Autoren:

Carlos Gómez-Restrepo, Patricia Maldonado, Nelcy Rodríguez, Rafael Ruiz-Gaviria, Miguel Ángel Escalante, Raúl Ángel Gómez, Marcelo Ribeiro de Araujo, Ana Carolina Schmidt de Oliveira, Joel Salvador Chávez Rivera, Jorge Alberto Godínez García, Marina Piazza Ferrand, Dora Blitchtein-Winicki
Abstract
Background
In Latin America, substance related disorders are highly prevalent and one of the treatment strategies is the Therapeutic Communities (TCs), however, in Latin America there is scarce data about this treatment strategies, their quality, drop-out rates and patient satisfaction.
Methods
Based on a previous study in 5 Latin American countries, the TCs who had a score equal or higher than 9 according to the De Leon criteria which are some fundamental items that the TCs should meet, were selected to carry out a descriptive and retrospective study of qualitative and quantitative characteristics of the TCs.
Results
Data from 58 TCs in 5 countries were included, with a sample of 1414 patients interviewed, of which most were single men, with no hospitalization history in a therapeutic community. Marijuana was the most commonly substance used in the 30 days prior to hospitalization, with 78% of interviewees referring alcohol consumption in the last 6 months and an average onset of psychoactive substances at 16 years of age. A 79% of the patients interviewed perceived some improvement during their stay in the TCs. The less fulfilled Quality Indicators by the TCs were "Requesting a professional qualification to former addicts that belonged to the program" and "Work as part of the therapeutic program". Among the reasons for discharge found in the database, 44% were due to therapeutic discharge with fulfillment of the treatment plan and 44% withdraws.
Conclusion
The user satisfaction with TCs, in terms of infrastructure and quality are quite high, as the fulfillment of essential quality items, however, the follow up information to evaluate effectiveness of the treatment is poor or in some cases unknown.