01.12.2012 | Research | Ausgabe 1/2012 Open Access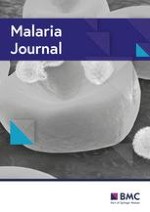 Quality of anti-malarials collected in the private and informal sectors in Guyana and Suriname
Zeitschrift:
Autoren:

Lawrence Evans III, Veerle Coignez, Adrian Barojas, Daniel Bempong, Sanford Bradby, Yanga Dijiba, Makeida James, Gustavo Bretas, Malti Adhin, Nicolas Ceron, Alison Hinds-Semple, Kennedy Chibwe, Patrick Lukulay, Victor Pribluda
Wichtige Hinweise
Electronic supplementary material
The online version of this article (doi:
10.​1186/​1475-2875-11-203
) contains supplementary material, which is available to authorized users.
Competing interests
The authors declare that they have no competing interests.
Authors' contributions
VP and AB conceived the studies and participated in the design and coordination. MA was involved in the co-ordination and selection of sampling sites in Suriname. NC and AH were involved in the co-ordination and selection of sampling sites in Guyana. MJ and GB co-ordinated sample collection in Guyana and Suriname respectively. DB, YD and SB were responsible for laboratory analysis of the medicines at USP. LE, VC and VP performed data analysis and drafted the manuscript with additional input from PL and KC. All authors read and approved the final manuscript.
Abstract
Background
Despite a significant reduction in the number of malaria cases in Guyana and Suriname, this disease remains a major problem in the interior of both countries, especially in areas with gold mining and logging operations, where malaria is endemic. National malaria control programmes in these countries provide treatment to patients with medicines that are procured and distributed through regulated processes in the public sector. However, availability to medicines in licensed facilities (private sector) and unlicensed facilities (informal sector) is common, posing the risk of access to and use of non-recommended treatments and/or poor quality products.
Methods
To assess the quality of circulating anti-malarial medicines, samples were purchased in the private and informal sectors of Guyana and Suriname in 2009. The sampling sites were selected based on epidemiological data and/or distance from health facilities. Samples were analysed for identity, content, dissolution or disintegration, impurities, and uniformity of dosage units or weight variation according to manufacturer, pharmacopeial, or other validated method.
Results
Quality issues were observed in 45 of 77 (58%) anti-malarial medicines sampled in Guyana of which 30 failed visual & physical inspection and 18 failed quality control tests. The proportion of monotherapy and ACT medicines failing quality control tests was 43% (13/30) and 11% (5/47) respectively. A higher proportion of medicines sampled from the private sector 34% (11/32) failed quality control tests
versus
16% (7/45) in the informal sector. In Suriname, 58 medicines were sampled, of which 50 (86%) were Artecom®, the fixed-dose combination of piperaquine-dihydroartemisinin-trimethoprim co-blistered with a primaquine phosphate tablet. All Artecom samples were found to lack a label claim for primaquine, thus failing visual and physical inspection.
Conclusions
The findings of the studies in both countries point to significant problems with the quality of anti-malarial medicines available in private and informal sector facilities as well as the availability of therapy not compliant with national treatment guidelines. They also stress the need to strengthen regulatory control efforts on the availability of anti-malarial medicines in these sectors and in endemic areas.