21.06.2017 | Research Article | Ausgabe 4/2017 Open Access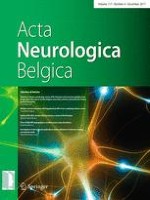 Quality of life after carotid endarterectomy: a review of the literature
Zeitschrift:
Autoren:

Mariusz Chabowski, Anna Grzebien, Agnieszka Ziomek, Karolina Dorobisz, Michał Leśniak, Dariusz Janczak
Introduction
Who receives CEA?
Symptomatic patients with carotid stenosis experience neurological symptoms such as transient episodes of neurological dysfunction caused by focal brain, spinal cord, or retinal ischemia without acute infarction or stroke presented with sudden weakness of arms or legs, speech difficulty, severe headache, confusion, dizziness, or difficulty with balance or coordination. Symptoms worsen as the disease progresses and a stroke may even lead to sudden death [
4
,
10
]. The burden of the disease and its severity reduces QoL, which may be further modified by the treatment options which are offered to stroke patients [
11
].
The method of stroke treatment is chosen based on the greatest benefits for an individual patient. The North American Symptomatic Carotid Endarterectomy Trial (NASCET) showed that CEA reduced the risk of a disabling stroke or death for symptomatic patients with stenosis over 50% [
8
]. Asymptomatic patients with carotid stenosis benefit less than symptomatic patients. The aggregate risk reduction of 53% was achieved for patients with asymptomatic carotid artery stenosis from 60% undergoing CEA when compared with patients who were offered aggressive medical treatment [
12
]. In addition, patients with severe heart disease, severe pulmonary disease, renal insufficiency, prior transient ischemic attack (TIA) or stroke, anatomical limitation, restenosis, and/or prior surgical treatment of carotid stenosis are at an increased risk of complications [
9
,
10
].
Tools for QoL measurement in neurologic patients
Measurement of QoL helps discover patients' needs and offers them holistic treatment. Knowledge about QoL should complement other clinical findings. Self-assessed QoL is based on a subjective scale of severity of symptoms, so it brings additional information about efficacy and safety of treatment and, therefore, becomes one of the basic aims of the therapeutic approach. Assessment of QoL can contribute to the development of better and more efficient standards in the care and management of severe chronic diseases, including strokes. The level of QoL should be assessed at the onset of the disease, after the invasive treatment and periodically in the long-term, as a comparison of QoL can help to adjust treatment and restore independence.
There are several validated and standardised scales available for use among patients with carotid stenosis and stroke survivors [
13
]. The original 49-item scale and its shortened version—the 12-item Stroke-Specific Quality-of-Life Scale (SSQOL)—address both health-related QoL domains and stroke-specific domains including speech, mobility, vision, and upper extremity function [
14
]. The Nottingham Health Profile was designed to measure subjective health status. It is used to determine the effect of a given disease on a patient's QoL, but it is not disease specific [
15
]. The 36-item short-form General Health Survey (SF-36) questionnaire includes one multi-item scale. It is used to evaluate limitations of health domains such as physical, social, role and emotional functioning as well as bodily pain, general mental vitality, and general health perceptions [
16
]. Cabral et al. found that SF-36 is more suitable for evaluating QoL in patients in the chronic phase after a stroke [
17
]. The sickness impact profile (SIP) is based on sickness-related behaviour. It is a 136-item scale consisting of 12 subscales. Due to its length, SIP is more suitable for cross-sectional assessment than for the assessment of individuals [
13
,
18
]. In severely ill patients, functional status is often determined by the ability to care for oneself and the possibility of living independently. The Katz Activities of Daily Living scale evaluates basic personal activities of daily living, while the Lawton Instrumental Activities of Daily Living scale gives information about a person's ability to live in the community [
19
,
20
]. The EuroQol is another generic scale for the measurement of health-related QoL. It is simple and short as it measures only five health dimensions (mobility, self-care, social functioning, pain, and mental functioning). The EuroQol evaluates similar domains of health to the SF-36 questionnaire. The QoL results measured by these scales correlate closely, except in the category of mental functioning [
21
].
The questionnaires given above are only examples of the available diagnostic possibilities for the assessment of QoL in stroke patients. Researchers are still working on new and more accurate scales or adapting existing scales for use among stroke patients, including the assessment of the impact of invasive treatment such as CEA. It should be kept in mind that the choice of a scale for QoL measurement should be based on the unique diagnostic needs of the subjects being studied, their clinical characteristics, the research questions, and the feasibility of the scale.
QoL drops in patients with carotid stenosis and after a stroke
Endarterectomy improves QoL
Predictors of QoL in stroke patients treated with CEA
An ischemic stroke is a serious condition which may lead to permanent damage to the brain tissue. Revascularisation restores the blood flow to the affected areas and contributes to preventing the occurrence of a stroke in the future, although some symptoms of the stroke may persist. The studies conducted among stroke patients show that long-term health-related QoL depends on many factors, including the severity of the stroke, the patient's health condition, treatment, and rehabilitation as well as socio-economic factors.
Does QoL depend on the surgical technique used for carotid artery revascularization?
Although currently, CEA is the gold standard for carotid artery revascularisation performed with the aim of preventing strokes, other surgical techniques draw the attention of surgeons, because many patients are considered poor candidates for CEA. In addition, there are some modifications in performing CEA as well that can be used in the case of anatomical difficulties or large plaques [
45
–
48
]
Carotid artery stenting (CAS) was developed as an alternative to CEA for patients at a high risk of adverse outcomes from surgical CEA. The SAPPHIRE trial showed that CAS with an embolic protection device gave comparable outcomes in terms of prevention of death, stroke, or myocardial infarction among high-risk patients with risk factors such as those who were older, or who had comorbidities or anatomical difficulties [
46
,
49
]. Major adverse events after CAS are well within an acceptable range (4.4%) [
50
]. More cranial nerve palsies appear after CEA than after endovascular treatment [
46
]. Despite promising results, endovascular treatment still requires long-term evidence obtained in adequately powered trials to demonstrate its benefits also in terms of QoL. It should also be mentioned that CEA has been used for decades, whereas experience and knowledge about CAS outcomes are smaller.
The first comparison of health-related QoL following CAS and CEA was performed in the framework of the CaRESS trial. A single assessment of QoL changes was performed at 1 year following treatment. In the CAS arm, a greater decline in QoL was observed than in the CEA arm, but there were no significant differences between CAS and CEA patients [
51
]. Randomized assessment of QoL was conducted in the framework of the SAPPHIRE Trial. QoL was assessed at baseline, at 2 weeks, and during additional follow-up visits at 1, 6, and 12 months. Patients from the CAS group reported better scores at 2 weeks for the SF-36 role physical scale than patients from the CEA group. No other significant differences were found for other scales between study groups and at any other time points. When taking into account the results of the disease-specific modified Likert scales, the only differences between CAS and CEA groups were observed at 2 weeks. Patients from the CAS group reported less difficulty eating or swallowing, less difficulty driving, and less neck pain, but at 1 month, no differences between the study groups were observed [
52
]. The CREST study had a similar design to the SAPPHIRE Trial and the results were consistent with the latter. Health-related QoL was better in CAS patients than in CEA patients only during the early recovery period. No differences were observed at 1 year [
43
]. Better QoL in CAS patients than in CEA patients shortly after surgery can be explained by the less invasive nature of CAS as compared to CEA.
Conclusions
Strokes negatively affect QoL, but its level can be restored by proper treatment. CEA improves outcomes and reduces the risk of a stroke in patients with carotid artery stenosis. At 1 year after CEA, the level of QoL becomes similar to that of chronically ill patients. The physical and emotional domains are the most affected components of QoL. Reducing disability before discharge should be a priority as physical functioning has a major effect on health-related QoL in stroke patients.
Compliance with ethical standards
Conflict of interest
All the authors declare that they have no conflict of interest.
Ethical approval
This article does not contain any studies on human or animals participants performed by any of the authors.
Informed consent
For this type of study formal consent is not required.
Open Access
This article is distributed under the terms of the Creative Commons Attribution 4.0 International License (
http://​creativecommons.​org/​licenses/​by/​4.​0/​
), which permits unrestricted use, distribution, and reproduction in any medium, provided you give appropriate credit to the original author(s) and the source, provide a link to the Creative Commons license, and indicate if changes were made.