01.03.2018 | Ausgabe 5/2018 Open Access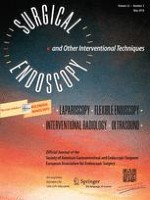 Quality of life after robot-assisted transmediastinal radical surgery for esophageal cancer
Zeitschrift:
Autoren:

Shuntaro Yoshimura, Kazuhiko Mori, Yukinori Yamagata, Susumu Aikou, Koichi Yagi, Masato Nishida, Hiroharu Yamashita, Sachiyo Nomura, Yasuyuki Seto
Abstract
Background
The aim of this retrospective study was to assess postoperative quality of life (QOL) after robot-assisted radical transmediastinal esophagectomy, defined as a nontransthoracic esophagectomy with radical mediastinal lymphadenectomy combining a robotic transhiatal approach and a video-assisted cervical approach. The results were compared to those of transthoracic esophagectomy.
Methods
In this study, all consecutive patients who underwent robot-assisted radical transmediastinal esophagectomy or transthoracic esophagectomy for esophageal cancer at University of Tokyo between January 2010 and December 2014 were included. The European Organization for Research and Treatment of Cancer (EORTC)'s quality of life questionnaires QLQ-C30 and QLQ-OES18 were sent to all patients that were still living, had no recurrence or other malignancy, and had not undergone a reoperation because of complications after esophagectomy.
Results
We were able to survey 63 (98.4%) of 64 eligible patients. We assessed and compared the QOL scores of both groups of patients. Compared to transthoracic esophagectomy, transmediastinal esophagectomy was associated with better QOL. Global health status and the physical, role, and cognitive function scale scores were significantly superior in the transmediastinal esophagectomy group (
P
 = 0.004, < 0.0001, 0.007, 0.002, respectively). Fatigue, nausea and vomiting, pain, appetite loss, reflux, and taste scores were significant lower (superior) in the transmediastinal esophagectomy group (
P
 = 0.003, 0.032, 0.025, 0.018, 0.001, 0.041, respectively).
Conclusions
This study indicates that robot-assisted radical transmediastinal esophagectomy is associated with better postoperative QOL compared to transthoracic esophagectomy. A larger study and prospective analyses are needed to confirm the current results.