21.06.2019 | Colorectal Cancer | Ausgabe 11/2019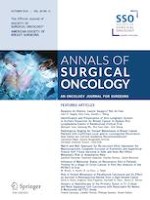 Quality of Life After Total Mesorectal Excision and Rectal Replacement: Comparing Side-to-End, Colon J-Pouch and Straight Colorectal Reconstruction in a Randomized, Phase III Trial (SAKK 40/04)
Zeitschrift:
Autoren:

PhD Karin Ribi, MD Walter R. Marti, PhD Jürg Bernhard, MD Felix Grieder, MD Michael Graf, MD Beat Gloor, MD Gaudenz Curti, MD Markus Zuber, MD Nicolas Demartines, PhD Christiane Andrieu, MSc Martin Bigler, PhD Stefanie Hayoz, MD Heinz Wehrli, MD Christoph Kettelhack, MD Bruno Lerf, MD Fabrizio Fasolini, MD Christian Hamel, For the Swiss group for clinical cancer research, section surgery
Wichtige Hinweise
Electronic supplementary material
Publisher's Note
Springer Nature remains neutral with regard to jurisdictional claims in published maps and institutional affiliations.
Abstract
Background
Functional outcomes of different reconstruction techniques have an impact on patients' quality of life (QoL), but information on long-term QoL is lacking. We compared QoL among three reconstruction techniques after total mesorectal excision (TME).
Methods
Quality of life was assessed within a randomized, multicenter trial comparing rectal surgery using side-to-end anastomosis (SEA), colon J-pouch (CJP), and straight colorectal anastomosis (SCA) by the Functional Assessment of Cancer Therapy-Colorectal scale (FACT-C) before randomization and every 6 months up to 2 years post-TME. The primary QoL endpoint was the change in the Trial Outcome Index (TOI), including the FACT-C subscales of physical and functional well-being and colorectal cancer symptoms (CSS), from baseline to month 12. Pair-wise comparisons of changes from baseline (presurgery) to each timepoint between the three arms were analyzed by Mann–Whitney tests.
Results
For the QoL analysis, 257 of 336 randomized patients were in the per protocol evaluation (SEA = 95; CJP = 63; SCA = 99). Significant differences between the reconstruction techniques were found for selected QoL scales up to 12 months, all in favor of CJP. Patients with SEA or SCA reported a clinically relevant deterioration for TOI and CSS at 6 months, those with SCA for CSS also at 12 months after TME. Patients with CJP remained stable.
Conclusions
Although the three reconstruction techniques differ in their effects on QoL at months 6 and 12, these differences did not persist over the whole observation period of 24 months. Patients with a colon J-pouch may benefit with respect to QoL in the short-term.