19.01.2017 | Brief Report | Ausgabe 8/2017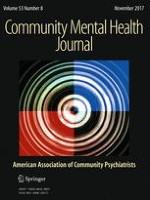 Quality of Life Among People with Psychiatric Disabilities: Does Day Centre Attendance Make a Difference?
Zeitschrift:
Autoren:

Argentzell Elisabeth, Tjörnstrand Carina, Eklund Mona
Abstract
The purpose was to investigate (i) how people with psychiatric disabilities who attend day centres experience their quality of life (QoL) compared to non-attendees, (ii) differences in QoL between those who attend meeting place-oriented centres and those who attend work-oriented centres, (iii) possible correlates of QoL among day centre attendees. Ninety-three day centre attendees and 82 non-attendees completed questionnaires addressing QoL and selected correlates. No group difference was found regarding QoL. Factors related with a good QoL were high levels of self-mastery and motivation. Thus, promoting day centre attendees' self-mastery and motivation might enhance their QoL.