01.10.2017 | Cardiac Nuclear Imaging (Alberto Cuocolo and Mario Petretta, Section Editors) | Ausgabe 10/2017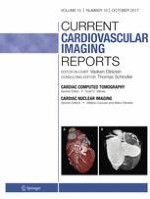 Quantification of Myocardial Blood Flow with CZT SPECT Imaging: Is It Ready for Clinical Use?
Zeitschrift:
Autoren:

Fernanda Erthal, Ronaldo Lima, R Glenn Wells, Terrence D. Ruddy
Wichtige Hinweise
This article is a part of Topical Collection on
Cardiac Nuclear Imaging
Abstract
Purpose of Review
Myocardial blood flow (MBF) quantification with positron emission tomography (PET) is well validated and has established diagnostic and prognostic value for patient management. New cardiac dedicated solid-state single-photon emission tomography (SPECT) cameras using cadmium-zinc-telluride (CZT) crystals have better temporal and spatial resolution and increased count sensitivity than conventional SPECT systems and can measure MBF. We review recent validation studies using CZT technology for measurement of MBF and assess its readiness for clinical application.
Recent Findings
One preclinical study showed the accuracy of MBF measured using the CZT technology and conventional radiotracers versus microsphere data. Clinical studies have demonstrated the feasibility in patients and excellent correlations with coronary angiography and flow-wire studies, and PET imaging.
Summary
Measurement of MBF is possible with SPECT CZT systems and has been validated. Further studies are necessary to confirm the incremental value of MBF measurements with SPECT CZT to standard relative perfusion imaging for diagnostic accuracy and risk stratification.