24.08.2017 | Ausgabe 5/2018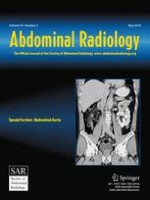 Quantification of perfusion reduction by using 2D-perfusion angiography following transarterial chemoembolization with drug-eluting beads
Zeitschrift:
Autoren:

Sabine K. Maschke, Thomas Werncke, Roman Klöckner, Thomas Rodt, Julius Renne, Martha M. Kirstein, Arndt Vogel, Frank K. Wacker, Bernhard C. Meyer, Jan B. Hinrichs
Abstract
Purpose
To analyze the feasibility of 2D-perfusion angiography (2D-PA) for the quantification of perfusion reduction following transarterial chemoembolization with drug-eluting beads (DEB-TACE).
Methods
Overall, 24 DEB-TACE procedures in 19 patients were included. To quantify changes in tumor perfusion following DEB-TACE using 2D-PA, the acquired digital subtraction angiography (DSA) series were post-processed. A reference region-of-interest (ROI) in a main hepatic artery and two, distal target ROIs in embolized tumor tissue and in non-target liver parenchyma were placed in corresponding areas on DSA pre- and post-DEB-TACE. The time to peak (TTP), peak density (PD), and the area under the curve (AUC) were assessed and the ratios reference ROI/target ROIs were calculated.
Results
In the embolized tumor, the 2D-PA ratios changed significantly (p < 0.05) after DEB-TACE, whereas no significant change was observed for non-target liver parenchyma (
p
> 0.05). PD
tumor
/PD
inflow
differed significantly to PD
parenchyma
/PD
inflow
pre-DEB-TACE (
p
< 0.0001), likewise AUC
tumor
/AUC
inflow
to AUC
parenchyma
/AUC
inflow
(
p
< 0.0001) with higher values in tumor tissue. The post-DEB-TACE ratios of AUC decreased significantly in the tumor tissue compared to the non-target liver parenchyma (
p
< 0.05).
Conclusion
2D-PA offers an objective approach to quantify the immediate perfusion reduction of embolized tumor tissue following DEB-TACE and may therefore be used to monitor peri-interventional stasis and to quantify technical success.