01.10.2008 | Original Article | Ausgabe 10/2008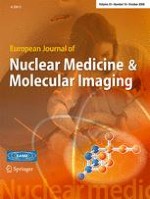 Quantitative PET imaging of Met-expressing human cancer xenografts with 89Zr-labelled monoclonal antibody DN30
Autoren:

Lars R. Perk, Marijke Stigter-van Walsum, Gerard W. M. Visser, Reina W. Kloet, Maria J. W. D. Vosjan, C. René Leemans, Giuseppe Giaccone, Raffaella Albano, Paolo M. Comoglio, Guus A. M. S. van Dongen
Abstract
Purpose
Targeting the c-Met receptor with monoclonal antibodies (MAbs) is an appealing approach for cancer diagnosis and treatment because this receptor plays a prominent role in tumour invasion and metastasis. Positron emission tomography (PET) might be a powerful tool for guidance of therapy with anti-Met MAbs like the recently described MAb DN30 because it allows accurate quantitative imaging of tumour targeting (immuno-PET). We considered the potential of PET with either 89Zr-labelled (residualising radionuclide) or 124I-labelled (non-residualising radionuclide) DN30 for imaging of Met-expressing tumours.
Materials and methods
The biodistribution of co-injected 89Zr-DN30 and iodine-labelled DN30 was compared in nude mice bearing either the human gastric cancer line GLT-16 (high Met expression) or the head-and-neck cancer line FaDu (low Met expression). PET images were acquired in both xenograft models up to 4 days post-injection (p.i.) and used for quantification of tumour uptake.
Results
Biodistribution studies in GTL-16-tumour-bearing mice revealed that
89
Zr-DN30 achieved much higher tumour uptake levels than iodine-labelled DN30 (e.g. 19.6%ID/g vs 5.3%ID/g, 5 days p.i.), while blood levels were similar, indicating internalisation of DN30. Therefore,
89
Zr-DN30 was selected for PET imaging of GLT-16-bearing mice. Tumours as small as 11 mg were readily visualised with immuno-PET. A distinctive lower
89
Zr uptake was observed in FaDu compared to GTL-16 xenografts (e.g. 7.8%ID/g vs 18.1%ID/g, 3 days p.i.). Nevertheless, FaDu xenografts were also clearly visualised with
89
Zr-DN30 immuno-PET. An excellent correlation was found between PET-image-derived
89
Zr tumour uptake and ex-vivo-assessed
89
Zr tumour uptake (
R
2
 = 0.98).
Conclusions
The long-lived positron emitter 89Zr seems attractive for PET-guided development of therapeutic anti-c-Met MAbs.