05.07.2018 | Original Article | Ausgabe 11/2018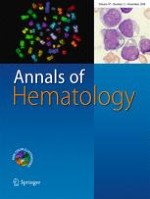 Rabbit antithymocyte globulin dose does not affect response or survival as first-line therapy for acquired aplastic anemia: a multicenter retrospective study
Zeitschrift:
Autoren:

Diego V. Clé, Elias H. Atta, Danielle S. P. Dias, Carlos B. L. Lima, Mariana Bonduel, Gabriela Sciuccati, Larissa A. Medeiros, Michel M. de Oliveira, Patricia B. Blum Fonseca, Sara T. O. Saad, Nelson Hamerschlak, Marco A. Salvino, Marlene P. Garanito, Antonio Pazin-Filho, Phillip Scheinberg, Rodrigo T. Calado
Abstract
In a prospective randomized study, treatment for aplastic anemia (AA) with rabbit antithymocyte globulin (r-ATG) and cyclosporine showed inferior hematological response and survival in comparison to horse antithymocyte globulin (h-ATG) and cyclosporine. However, h-ATG was discontinued in most Asian, South American, and European countries, where r-ATG became the only ATG formulation available. We retrospectively evaluated consecutive patients with acquired AA who received either rabbit (
n
 = 170) or horse (
n
 = 85) ATG and cyclosporine for first-line treatment from 1992 to 2014 in seven referral centers in Brazil and Argentina. Overall response at 3 months was 17% (95%CI, 11–23%) for r-ATG and 44% (95%CI, 33–55%) for h-ATG (
p
 < 0.001). At 6 months, it was 31% (95%CI, 34–39%) for r-ATG and 59% (95%CI, 48–69%) for h-ATG (
p
 < 0.001). Overall survival at 5 years was 57% (95%CI, 47–65%) for r-ATG and 80% (95%CI, 69–87%) for h-ATG (log-rank = 0.001). Relapse was significantly higher in patients receiving h-ATG (28%; 95%CI, 17–43%) as compared to r-ATG (9.4%; 95%CI, 4–21%; log-rank,
p
 = 0.01). The type of ATG was the only factor associated with both response and survival. The r-ATG dose varied from 1 to 5 mg/kg/day, but it did not correlate with outcomes. In summary, this is the largest multicenter study comparing the two ATG formulations in AA. Our results indicate that the dose of r-ATG does not influence hematologic response or survival in first-line therapy for acquired AA. Considering the toxicity and costs of r-ATG, our findings challenge its aggregate benefit to cyclosporine therapy and further strengthen that h-ATG should remain standard therapy in AA.