01.12.2016 | Case report | Ausgabe 1/2016 Open Access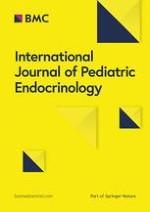 Rabson Mendenhall Syndrome caused by a novel missense mutation
Zeitschrift:
Autoren:

Krishnapradeep Sinnarajah, M. B. K. C. Dayasiri, N. D. W. Dissanayake, S. T. Kudagammana, A. H. H. M. Jayaweera
Abstract
Background
Rabson Mendenhall syndrome is a rare endocrine condition characterized by severe insulin resistance and hyperglycemia. It occurs due to mutations in the insulin receptor gene. Few mutations which are associated with Rabson Mendenhall syndrome have been identified and reported in the past. The management of this condition is extremely challenging and will need multi-disciplinary approach.
Case presentation
An 11 year old boy presented with polyuria and polydipsia. He was noted to have coarse facies, severe acanthosis nigricans, hypertrichosis, retarded growth and developmental delay. Investigations revealed severe hyperglycemia which was poorly responsive to high doses of insulin. A diagnosis of Rabson Mendenhall syndrome was suspected based on his physical characteristics in the presence of insulin resistance. Genetic studies revealed a homozygous missense mutation in the Insulin receptor gene confirming the diagnosis of Rabson Mendenhall syndrome. This is a novel mutation which has not been reported previously.
Conclusion
Rabson Mendenhall syndrome should be suspected in a patient with characteristic physical features, severe hyperglycemia and insulin resistance. The genetic studies will not only confirm the diagnosis but also will help in counselling. Wider collaboration is needed to identify definitive treatment options for managing this rare condition.