01.12.2018 | Research | Ausgabe 1/2018 Open Access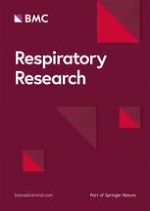 Radiation-induced pulmonary gene expression changes are attenuated by the CTGF antibody Pamrevlumab
Zeitschrift:
Autoren:

Mark D. Sternlicht, Ute Wirkner, Sebastian Bickelhaupt, Ramon Lopez Perez, Alexandra Tietz, Kenneth E. Lipson, Todd W. Seeley, Peter E. Huber
Wichtige Hinweise
Electronic supplementary material
Abstract
Background
Fibrosis is a delayed side effect of radiation therapy (RT). Connective tissue growth factor (CTGF) promotes the development of fibrosis in multiple settings, including pulmonary radiation injury.
Methods
To better understand the cellular interactions involved in RT-induced lung injury and the role of CTGF in these responses, microarray expression profiling was performed on lungs of irradiated and non-irradiated mice, including mice treated with the anti-CTGF antibody pamrevlumab (FG-3019). Between group comparisons (Welch's t-tests) and principal components analyses were performed in Genespring.
Results
At the mRNA level, the ability of pamrevlumab to prolong survival and ameliorate RT-induced radiologic, histologic and functional lung deficits was correlated with the reversal of a clear enrichment in mast cell, macrophage, dendritic cell and mesenchymal gene signatures. Cytokine, growth factor and matrix remodeling genes that are likely to contribute to RT pneumonitis and fibrosis were elevated by RT and attenuated by pamrevlumab, and likely contribute to the cross-talk between enriched cell-types in injured lung.
Conclusions
CTGF inhibition had a normalizing effect on select cell-types, including immune cells not typically regarded as being regulated by CTGF. These results suggest that interactions between RT-recruited cell-types are critical to maintaining the injured state; that CTGF plays a key role in this process; and that pamrevlumab can ameliorate RT-induced lung injury in mice and may provide therapeutic benefit in other immune and fibrotic disorders.