01.12.2011 | Review | Ausgabe 1/2011 Open Access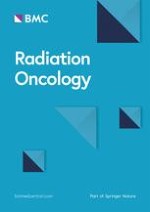 Radiation induced temporal lobe necrosis in patients with nasopharyngeal carcinoma: a review of new avenues in its management
Zeitschrift:
Autoren:

Jing Chen, Meera Dassarath, Zhongyuan Yin, Hongli Liu, Kunyu Yang, Gang Wu
Wichtige Hinweise
Jing Chen, Meera Dassarath contributed equally to this work.
Competing interests
The authors declare that they have no competing interests.
Authors' contributions
All authors read and approved the final manuscript. JC and MD drafted the manuscript together. ZY and HL carried out data collection. GW gave a lot of instructions in writing the review. KY took charge of the whole work.
Introduction
Diagnostic Modalities
Conventional imaging
Among the different anatomical imaging available, MRI appears to have higher sensitivity than CT in diagnosing TLN. However, CT scan is best suited to rule out skull base erosions [
13
]. Warranting brief attention are two characteristic features of TLN on CT: the early finger like hypodense area representative of reactive white matter edema and the late cyst like changes corroborating with liquefactive necrosis and surrounding gliosis [
9
]. The finger and the cyst signs on CT are seen as irregular and rounded lesions on MRI respectively [
13
]. The features in favor of TLN include two characteristic enhancement patterns - the "Swiss cheese" and "soap bubble" [
14
,
15
]. Also, TLN lesions are usually restricted within the portals of radiation though they may extend well beyond.
Advanced Imaging Tools
Advanced imaging techniques are mainly functional imaging techniques which assess physiological parameters and can provide additional information about the lesions.
Other Clues For Diagnosis
The levels of circulating plasma EBV DNA levels may contribute in differentiating between tumor and TLN. Measurement of free plasma EBV DNA has been found to be a highly specific and sensitive marker of nasopharyngeal carcinoma [
44
]. EBV DNA is released into blood after lysis of NPC cells and hence reflects the tumor load. Hou et al found that pre-treatment plasma EBV DNA concentrations significantly correlated with tumor volume, T stage and TNM stage. They also believe that pre-treatment EBV DNA concentrations mainly reflect tumor load whereas post treatment EBV DNA concentrations are an important predictive factor for distant metastases [
45
]. Leung et al reported that pre-treatment plasma EBV DNA concentrations could predict distant metastasis in early stage NPC [
46
]. Lo et al also showed that circulating plasma EBV DNA copies increase significantly in NPC patients with tumor recurrence [
44
], and the EBV DNA levels can significantly increase sometimes up to 6 months earlier than clinical diagnosis. A considerably high pretreatment level of EBV DNA and a subsequent rise during follow up may therefore indicate tumor recurrence and may aid in differentiating tumor from TLN in ambiguous circumstances.
Despite the multiple attempts to distinguish tumor from TLN by radiological methods, biopsy still remains the most reliable way to reach an unequivocal diagnosis since no radiological technique has yet the capacity to reliably differentiate between these two entities.
Prevention
Prevention remains the cornerstone of a successful therapeutic algorithm for TLN. It is practically impossible to completely shield the temporal lobes during radiotherapy for NPC patients with skull base invasion or cavernous sinus involvement. Kam et al showed that IMRT significantly limits the maximal dose to the temporal lobes to 46 Gy as compared to 66.5 Gy in 2D radiotherapy in NPC patients with T4N2M0 disease [
47
]. Additionally, replanning for patients with NPC before the 25th fraction during IMRT further helps to ensure adequate dose to the target volumes and safe doses to critical normal structures, which may decrease incidence of TLN [
48
,
49
].
Among the multiple etiologies of TLN, the fraction size is of utmost significance [
4
]. Lee et al analyzed the incidence rate of temporal lobe necrosis in 1008 patients treated radically with different fractionation schedules for T1 NPC [
4
]. 621 patients, who received a lower total dose of 50.4 Gy in 4.2 Gy per fraction, had a significantly higher 10 year actuarial incidence rate of TLN compared to the 320 patients who received a higher total dose of 60 Gy but in 2.5 Gy per fraction: 18% versus 4.6% respectively. Apart from fractional dose, in a later study, they identified the overall treatment time and the twice daily schedule as additional etiologic factors of TLN [
50
]. The 5 year actuarial incidence of TLN in this study ranged from 0% in patients who had received 66 Gy in 2 Gy per fraction once daily as compared to 14% in patients who received two fractions per day during part of the treatment (71.2 Gy in 40 fractions in 35 days). Furthermore, in a retrospective analysis of 849 NPC patients treated with radiation therapy alone, Yeh et al observed that patients receiving external beam radiation dose more than 72 Gy experienced a higher incidence of temporal lobe necrosis [
51
]. Moreover, the use of boost has improved local control, especially of locally advanced NPC but at the cost of an increase in toxicity. Hara et al reported a 12% incidence of TLN among their 82 NPC patients at a median follow up of 3.4 years, who were treated with external beam RT to 66 Gy followed by sterotactic radiotherapy (SRT) boost of 7-15 Gy in a single fraction [
52
]. Likewise, during a 5 year follow-up, Lee et al observed a rate of 8.3% of TLN among 33 patients of theirs, who received 5 Gy SRT boost in 2 fractions after conformal RT to a total dose of 70 Gy [
53
].
By stringently limiting doses to the temporal lobes, using conventional fraction size, adoption of IMRT and replanning during IMRT, occurrence of TLN can be prevented in most patients. Control of comorbid factors like hypertension, diabetes, lipidemia, obesity and smoking, which are known contributory factors in the development of TLN, may also reduce the incidence and severity of the sequelae.
Treatment
Treatment of TLN is still a challenging issue. Treatment modalities for cerebral radio-necrosis are also suitable for radiation-induced TLN. Observation may be the only treatment needed in some selective patients with TLN including those that are asymptomatic, have a long latency period of TLN development, have received only one course of radiotherapy and have favorable MRI findings [
54
].
Steroids
Steroids have been used to provide prompt symptomatic relief. Radionecrosis is usually associated with various degrees of white matter edema in the early phase, which acts as a space occupying lesion and hinders the blood supply to the temporal lobe. Steroids help decrease cytokines and inflammatory reaction which not only decreases cerebral edema but also minimizes the risk of subsequent development of vascular and inflammatory changes [
55
]. Unfortunately, they are seen to be beneficial only in early phase of extensive liquefactive necrosis[
9
]. Tapered doses of dexamethasone achieved a durable response in 25 out of 72 NPC patients studied by Lee et al who had radiation induced TLN [
9
]. The reported doses of dexamethasone used range from 4-16 mg/day for 4-6 weeks and were gradually tapered off [
9
]. Prolonged use of steroids is associated with various side effects like diabetes, myopathy and weight gain [
56
]. However, steroids also have immunosuppressive effects on the already immuno-compromised cancer patients and put them at high risk of developing fatal sepsis and death [
9
]. Furthermore, since steroids do not reverse the pathogenesis, many patients experience the symptoms again after they are tapered off the medication [
7
]. In a recent study, pulsed steroid treatment, which has better tolerance and may minimize long term steroid induced side effects, has been compared to oral steroids in the treatment of TLN in NPC patients. The clinical and radiological outcomes were found to be better with the use of pulsed steroids. 20% patients experienced radiological improvement as opposed to 3.2% of patients receiving conventional oral steroids (p < 0.0001) which could be due to the comparatively lower pulsed-steroid dose used as compared to oral steroids. These results should be interpreted with caution as baseline characteristics and the follow-up protocols of the treatment groups were different [
54
].
Anticoagulants, anti-platelets and vitamins
Glantz et al were the first to report the use of heparin followed by warfarin for 3-6 months in an attempt to treat radiation necrosis by arrest and reversal of endothelial injury which is the predisposing lesion entailing to radiation necrosis [
57
]. This therapeutic option was met with little success since the symptoms reemerged after their discontinuation. Anti-platelet treatment with pentoxyfyllin, aspirin, and ticlopidine have also been used to prevent thrombosis of the blood vessels but the potential risk of bleeding from these agents should be considered [
7
]. At present, there are still no large clinical trials to support their routine use in the treatment of radiation induced necrosis. High doses of vitamins such as alpha tocopherol has shown the ability to improve the neurocognitive function of radiation induced temporal lobe necrosis in NPC patients in a phase II trial when it was administered for a period of 1 year [
58
].
Hyperbaric oxygen
Hyperbaric oxygen (HBO) has also been tried in radiation necrosis patients [
59
]. It raises the Pa0
2
of tissues and initiates cellular and vascular repair. Oxygen is delivered at 2.0 to 2.4 atm in 20-30 sessions for 90-120 min per session. Chuba et al treated 10 patients of radiation necrosis with hyperbaric oxygen among whom 6 showed improvements with 3 having documented radiographic response [
60
]. However, many also received concomitant steroid treatment. Serious complications of hyperbaric oxygen are rare but may include oxygen toxicity and closed cavity barometric pressure trauma. There have been concerns about tumor regrowth with increased oxygenation, but this has not been supported by Feldmeier [
61
,
62
]. However, a recent study suggests that HBO therapy may increase risk of cancer re-recurrence in patients who had locoregional recurrence and successfully salvaged head and neck cancer [
63
]. Further studies are required to confidently establish its efficacy and safety and understand its implication in treatment of TLN.
Surgery
Surgery is usually reserved as the last resort in patients with significant increase in intracranial pressure or in those with progressive neurological deficits despite steroids or other medical therapy [
31
]. It may also be indicated in cases of TLN complicated by hemorrhage or brain abscess formation [
8
,
64
]. Previously, conflicting outcomes have been obtained with neurosurgery, with good outcomes in some [
65
] while poor in others [
9
]. Recently, Mou et al performed surgery for 14 patients with histologically confirmed TLN, who failed to show improvement with steroids [
66
]. Good surgical outcome with significant symptom improvement and low recurrence rate was obtained. The results from the above study depict that surgery may not only cause partial reversal of the radionecrotic process, but also halt the progression of radiation necrosis. Similar results were reported in an another recent study where 27 radiation induced TLN patients with NPC had emergency life saving neurosurgery [
54
]. Generally, patients with good performance status, well-controlled primary disease and good prognosis may be expected to fare better with surgery. Until now surgery has only been performed in a small sample size and many questions concerning its use still warrant further clarification.
Bevacizumab
Bevacizumab is the latest addition to the therapeutic options for radiation induced TLN. Gonzalez et al firstly reported a group of 8 patients with radiation-induced brain necrosis treated with bevacizumab on either a 5 mg/kg/2-week or a 7.5 mg/kg/3-week schedule. In all 8 patients significant reductions in dexamethasone dose as well as abnormalities on MRI fluid-attenuated inversion-recovery (FLAIR) corresponding to edema and T1-weighted post-Gd-contrast abnormalities corroborating with capillary permeability were noted [
67
]. Similar observations were reported in other studies [
68
]. These remarkable changes are thought to be the result of normalization of the blood brain barrier by bevacizumab [
67
]. Besides improvement in imaging parameters, Wong et al reported significant improvement of neurocognitive deficits [
69
]. It is postulated that fibrinoid necrosis of blood vessels and hypoxia leads to VEGF release [
70
]. Additionally, radiation-induced damage of astrocytes further causes leakage of VEGF. This then acts on the capillary targets and causes neovascularization. The new vessels are leaky and further perpetuate edema and blood brain barrier disruption [
70
,
71
]. Bevacizumab, therefore seems to have both a diagnostic and therapeutic role. A randomized double-blind placebo-controlled trial of bevacizumab therapy for radiation necrosis of central nervous system, involving 14 patients, was carried out [
72
]. A dose of 7.5 mg/kg of bevacizumab was administered 3 weekly in one group while the other group received intravenous placebo [
72
]. Final results depicted that all bevacizumab-treated patients, while none of the placebo-treated patients showed improvement in neurological symptoms or signs. However, one of the limitations of this study remains its small sample size.
Preliminary results have shown that bevacizumab at a dose of 7.5 mg/kg every 3 weeks, or 5 mg/kg every two weeks for 12 weeks can stop the progression of radiation necrosis, or even reverse its process in most patients with limited follow-up [
72
]. A recent case report has shown a more rapid and early onset of relief of symptoms accompanied with a long lasting response with bevacizumab than steroids in the treatment of TLN in a NPC patient [
56
]. However, most studies using bevacizumab to treat brain necrosis involve small sample size, and their longest follow-up is just 10 months. It is hence necessary to prolong the follow-up to see whether the efficacy is durable or not. For example, a recent case report from Japan described two patients with radiation necrosis treated with 5 mg/kg of bevacizumab biweekly for 6 cycles [
73
]. There was an improvement in neurocognitive function and perifocal edema. However, signs of radiation necrosis appeared again several months after discontinuation of the drug. Fortunately the patients still responded to a second course of bevacizumab. This case report as well as previous studies emphasize on the need for further research to determine the optimal dose, the longest interval between doses to achieve durable resolution of CNS radiation necrosis and its long term safety through larger sample size studies.
More recently, the use of mouse nerve growth factor for 2 months in a NPC patient with clinical and radiological manifestations of radiation induced TLN showed complete resolution of the MRI abnormalities and an improved cognitive function in one case report [
74
]. However, no definite conclusions can be formulated from this report since it involves only one patient whose TLN was not confirmed by histology and the follow up period is short. Hence further studies are required.
Conclusion and Perspectives
After a brief analysis of all the evidence available until now concerning the diagnosis and treatment of TLN, we still do not have a definite algorithmic management for this entity. However, a few conclusions can still be drawn:
1.
Prevention is always better than treatment in the management of TLN. IMRT is definitely the radiotherapeutic technique of choice for treatment of NPC at present, considering its normal organ sparing ability together with its capacity to achieve adequate tumoricidal dose. Furthermore, the mutifactorial etiologies of TLN including dose fraction size should always be kept in mind when treating NPC patients.
2.
In cases where a definite diagnosis of TLN is difficult to make according to conventional radiological modalities like CT and MRI, a panoply of functional imaging techniques including MRS, perfusion MRI, and PET might aid in diagnosis. Furthermore, evaluation of EBV DNA plasma level can provide a clue.
3.
Until now conventional treatment including steroids and anticoagulants fails to reverse the pathogenesis of TLN and merely used for palliation. However, recently bevacizumab has gained much interest in the management of this entity since it holds the potential of reversing the underlying pathogenesis. Since its use is still in the initial phase, critical questions such as its optimal dose and duration of administration still needs further investigation.
4.
Further elucidation of the pathogenesis of TLN at the molecular level may open new frontiers in therapeutic options.
Acknowledgements
The authors acknowledge financial support from National Natural Science Foundation of China (Grant number: 30870739/H2201).
Competing interests
The authors declare that they have no competing interests.
Authors' contributions
All authors read and approved the final manuscript. JC and MD drafted the manuscript together. ZY and HL carried out data collection. GW gave a lot of instructions in writing the review. KY took charge of the whole work.