01.12.2016 | Case report | Ausgabe 1/2016 Open Access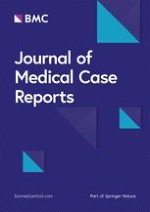 Radiation recall after capecitabine in a patient with recurrent nasopharyngeal carcinoma: a case report
Zeitschrift:
Autoren:

Victor Lee, Ka-On Lam, Dora Kwong, To-Wai Leung
Abstract
Background
Capecitabine has been commonly used in recurrent or metastatic nasopharyngeal carcinoma. However, radiation recall after capecitabine for nasopharyngeal carcinoma has not been reported.
Case presentation
We report the case of a 64-year-old Chinese woman with locoregionally advanced nasopharyngeal carcinoma previously treated with induction chemotherapy followed by concurrent chemoradiation 6 years ago. She developed cervical, mediastinal, and abdominal nodal relapses 14 months later. She then received capecitabine with initial excellent tumor response for 1 year but disease recurrence was noticed at the peripancreatic nodal region, which was successfully treated with concurrent chemoradiation with capecitabine. Unfortunately, she developed progressive erythema of the face and neck region at exactly the previous irradiation site for her initial nasopharyngeal carcinoma, 2 months after taking capecitabine. She initially ignored it, but it became more confluent and serious. Eventually, a facial skin biopsy was performed showing nonspecific chronic inflammation only. The diagnosis was most likely radiation recall phenomenon since capecitabine was the only drug she received before development of this dermatological manifestation on her previously irradiated face and neck. Treatment was conservative and supportive albeit with no significant clinical improvement.
Conclusions
Radiation oncologists should be aware of this potential risk of capecitabine, especially when it is administered for a long period of time.