11.04.2020 | Original Article | Ausgabe 1/2021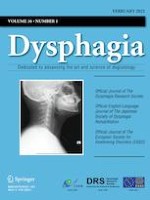 Radiation Safety in Videofluoroscopic Swallowing Study: Systematic Review
Zeitschrift:
Autoren:

Jun-Yong Hong, Na-Kyoung Hwang, Gihyoun Lee, Ji-Su Park, Young-Jin Jung
Wichtige Hinweise
Publisher's Note
Springer Nature remains neutral with regard to jurisdictional claims in published maps and institutional affiliations.
Abstract
Videofluoroscopic swallowing study (VFSS) is generally used to diagnose dysphagia and oropharyngeal aspiration during swallowing movement. Patients and bolus-feeding operators (such as occupational therapist and speech language pathologist) may undergo multiple VFSS procedure, placing them at risk for more radiation exposure due to increased scan time. The present study investigated the dose–area product, effective dose of various protocols, and summarized dose reports from various studies of VFSS. The PubMed database searched for relevant publications reporting radiation dose in the VFSS procedure. 13 articles were selected to be reviewed. This systematic review involved 13 peer-reviewed articles that reported the specific dose of the VFSS procedure. The articles were categorized into three types: operator radiation dose, adult patient radiation dose, and pediatric radiation dose. The operator dose reports showed that the operators' scattering exposure, equivalent dose (across the whole body, eyes, and hands), and annual effective dose were significantly lower than the annual dose limit of 20 mSv. Both adult and pediatric patient dose reports showed that the effective dose, which was estimated from recorded dose–area product, was significantly lower than the annual background exposure of 2.4 mSv in various protocols. The present literature review suggested that the radiation dose of VFSS by modified barium swallowing is acceptable in both operators and patients. However, various radiation protection strategies should be conducted during the procedure to reduce the risk of stochastic effect.