01.02.2014 | 2013 SSAT Plenary Presentation | Ausgabe 2/2014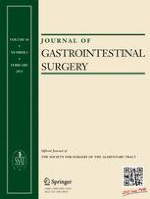 Radiographic Tumor–Vein Interface as a Predictor of Intraoperative, Pathologic, and Oncologic Outcomes in Resectable and Borderline Resectable Pancreatic Cancer
Zeitschrift:
Autoren:

Hop S. Tran Cao, Alpana Balachandran, Huamin Wang, Graciela M. Nogueras-González, Christina E. Bailey, Jeffrey E. Lee, Peter W. T. Pisters, Douglas B. Evans, Gauri Varadhachary, Christopher H. Crane, Thomas A. Aloia, Jean-Nicolas Vauthey, Jason B. Fleming, Matthew H. G. Katz
Wichtige Hinweise
Presented at a plenary session of the 54th Annual Meeting of the Society for Surgery of the Alimentary Tract, May 21st, 2013, Orlando, FL, USA.
Discussion
Dr. Keith Lillemoe (Boston, Massachusetts):
I would like to congratulate Dr. Tran Cao and his colleagues for a very well presented paper and important contribution to help all of us understand how the radiographic findings with respect to how portal/mesenteric venous involvement affects resectability and survival. It is great to see this new generation of pancreatic surgeons at MD Anderson continue to contribute to the assessment of local tumor involvement and the role of vein resection in patients with pancreatic cancer. I have a few questions.
First, you report your results from 254 resected patients with pancreatic cancer. Is there any message that we can learn from those patients found to be unresectable at the time of surgical exploration?
Next, tell us about the timing of CT imaging after neoadjuvant therapy. When do you repeat the CT scan after therapy and how close are these studies to your planned exploration.
Third, in the discussion you mentioned, but did not provide data, that the most frequent site of first recurrence of disease was distant metastases. Can you give us any information about the overall incidence of local recurrence, either as the first recurrence or late in the course?
Finally, all of your neoadjuvant therapy was Gemcitabine-based. We and many others have started using more aggressive neoadjuvant regimens for locally advanced disease, primarily with FOLFIRINOX. Our initial impression has been favorable, in terms of the response. In many cases, despite concerning CT imaging for both venous and arterial involvement, we have been able to complete R0 resections, usually without vascular resection. This has led us to be even more aggressive in these selected patients. Do you have any experience with FOLFIRINOX or similar regimens at MD Anderson and have you observed similar radiographic findings as you have in your Gemcitabine-based regimen?
Thanks again for an outstanding presentation.
Closing Discussant
Dr. Hop Tran Cao:
Thank you Dr. Lillemoe for your excellent questions and insightful feedback.
With regards to the issue of unresectability at the time of surgical exploration, this current series did not address that, as it only included patients who received pancreaticoduodenectomy. However, we have previously reviewed our experience with patients receiving neoadjuvant chemoradiation, and found that high-quality pancreatic protocol CT scans were highly accurate in predicting surgical resectability at the time of surgery. Local factors caused us to abort surgical resection at the time of exploration in only 3 % of cases, too small a number for us to really be able to correlate TVI classes with resectability. As long as the CT scan demonstrates criteria of borderline resectability and not locally advanced disease, the primary tumor should be technically resectable in our experience.
As for the timing of the preoperative CT scan, these are routinely obtained within a week of surgery at our institution.
In looking back at our data, the overall incidence of initial local recurrence (alone or concurrent with distant disease) in our cohort was approximately 25 % among all patients who recurred, and 17 % among all patients who underwent PD and who were reported in this study.
Finally, we are also gaining experience with FOLFIRINOX in the neoadjuvant setting. However, our experience with this regimen is much too young to draw any conclusions with regards to imaging criteria or vascular resection at this time.
Abstract
Background
Venous resection may be required to achieve complete resection of pancreatic cancers. We assessed the ability of radiographic criteria to predict the need for superior mesenteric–portal vein (SMV-PV) resection and the presence of histologic vein invasion.
Methods
All patients who underwent pancreaticoduodenectomy from 2004 to 2011 at the authors' institution were identified. Preoperative pancreatic protocol CT images were re-reviewed to characterize the extent of tumor–vein circumferential interface (TVI) as demonstrating no interface, ≤180° of vessel circumference, >180° of vessel circumference, or occlusion. Findings were correlated with the need for venous resection, histologic venous invasion, and survival.
Results
A total of 254 patients underwent pancreaticoduodenectomy and met inclusion criteria; 98 (39.6 %) required SMV-PV resection. In our cohort, 76.4 % of patients received neoadjuvant chemoradiation. The TVI classification system predicted with fair accuracy both the need for SMV-PV resection at the time of surgery and histologic invasion of the vein. In particular, 89.5 % of patients with TVI >180° or occlusion required SMV-PV resection. Of those, 82.4 % had documented histologic SMV-PV invasion. TVI ≤180° was associated with favorable overall survival compared to a greater circumferential interface.
Conclusions
A tomographic classification of the tumor–SMV-PV interface can predict the need for venous resection, pathologic venous involvement, and survival. To assist in treatment planning, a standardized assessment of this anatomic relationship should be routinely performed.