01.12.2019 | Technical innovations | Ausgabe 1/2019 Open Access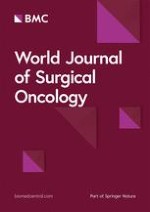 Radiolocalization of atypical lesions for intraoperative identification: technical factors, localization quality, success rates, patient safety, and spectrum of applications
Zeitschrift:
Autoren:

Jason R. Young, Andi E. Wallig, Nichole L. Fischer, Tiffinee N. Swanson, Mark J. Truty, K. Robert Shen, Brendan P. McMenomy
Wichtige Hinweise
Publisher's Note
Springer Nature remains neutral with regard to jurisdictional claims in published maps and institutional affiliations.
Abstract
Background
To retrospectively analyze perilesional technetium Tc-99m MAA injection for intraoperative localization of atypical soft-tissue and bone lesions within a single tertiary referral center in order to determine technique, safety, and clinical utility of these procedures.
Methods
An IRB compliant, retrospective electronic chart review (2010–2017) exploring surgical excision of atypical (non-pulmonary, non-breast, non-sentinel node) lesions guided by Tc-99m MAA perilesional injection. Patient demographics, lesion location, lesion size, radiotracer injection technique, radiotracer injection complications, scintigraphy technique, scintigraphic quality, intraoperative time, lesion identification in surgery, and pathological diagnoses were recorded.
Results
Twenty-two atypical radiolocalization exams were identified. Lesion sites included rib (7), lymph node (4), abdominal wall (3), mesenteric (3), gallbladder fossa (1), retroperitoneum (1), parietal pleura (1), anterior mediastinum (1), and iliac bone (1). Average lesion size was 14 mm (range 5–23 mm). Eighteen (82%) radiotracer injections used computed tomography guidance and 4 (18%) used ultrasound guidance. The mean activity of Tc-99m MAA administered was 11.8 MBq (0.32 mCi). A 22-gauge needle was most often used for perilesional injection. No injection complications were reported. The lesions were identified with a hand-held gamma probe during surgery in 100% of cases. Of the samples sent to pathology, 100% were identified and given a diagnosis.
Conclusion
Radiolocalization of atypical lesions may be a valuable technique, guiding minimally invasive surgical removal of lesions that would otherwise be difficult to identify intraoperatively such as non-palpable rib, central mesenteric nodal, and abdominal wall lesions.