22.01.2019 | Research Article | Ausgabe 5/2019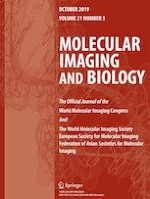 Radiomics Analysis of PET and CT Components of PET/CT Imaging Integrated with Clinical Parameters: Application to Prognosis for Nasopharyngeal Carcinoma
Zeitschrift:
Autoren:

Wenbing Lv, Qingyu Yuan, Quanshi Wang, Jianhua Ma, Qianjin Feng, Wufan Chen, Arman Rahmim, Lijun Lu
Wichtige Hinweise
Electronic supplementary material
Publisher's Note
Springer Nature remains neutral with regard to jurisdictional claims in published maps and institutional affiliations.
Abstract
Purpose
To investigate the prognostic performance of radiomics features, as extracted from positron emission tomography (PET) and X-ray computed tomography (CT) components of baseline 2-deoxy-2-[18F]fluoro-D-glucose ([18F]FDG) PET/CT images and integrated with clinical parameters, in patients with nasopharyngeal carcinoma (NPC).
Procedures
One hundred twenty-eight NPC patients (85 vs. 43 for training vs. validation), containing a subset of 86 patients with local-regional advanced stage, were enrolled. All patients underwent pretreatment PET/CT scans (mean follow-up time 24 ± 14 months). Three thousand two hundred seventy-six radiomics features extracted from PET or CT components and 13 clinical parameters were used to predict progression-free survival (PFS). Univariate analysis with Benjamini–Hochberg false discovery rate (FDR) correction was first used to screen significant features, and redundant features with Spearman's correlation > 0.8 were further eliminated. Then, seven multivariate models involving PET features and/or CT features and/or clinical parameters (denoted as clinical, PET, CT, clinical + PET, clinical + CT, PET + CT and clinical + PET + CT) were constructed by forward stepwise multivariate Cox regression. Model performance was evaluated by concordance index (C-index).
Results
Sixty patients encountered events (28 recurrences, 17 metastases, and 15 deaths). Six clinical parameters, 3 PET features, and 14 CT features in training cohort and 4 clinical parameters, 10 PET features, and 4 CT features in subset of local-regional advanced stage were significantly associated with PFS. Combining PET and/or CT features with clinical parameters showed equal or higher prognostic performance than models with PET or CT or clinical parameters alone (C-index 0.71–0.76 vs. 0.67–0.73 and 0.62–0.75 vs. 0.54–0.75 for training and validation cohorts, respectively), while the prognostic performance was significantly improved in local-regional advanced cohort (C-index 0.67–0.84 vs. 0.64–0.77, p value 0.001–0.059).
Conclusion
Radiomics features extracted from the PET and CT components of baseline PET/CT images provide complementary prognostic information and improved outcome prediction for NPC patients compared with use of clinical parameters alone.