01.08.2018 | Cardiac Nuclear Imaging (A Cuocolo and M Petretta, Section Editors) | Ausgabe 8/2018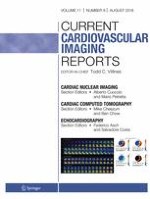 Radionuclide Imaging in Decision-Making for Coronary Revascularization in Stable Ischemic Heart Disease
Zeitschrift:
Autoren:

Christiane Wiefels, Fernanda Erthal, Robert A. deKemp, Aun Yeong Chong, Lisa M. Mielniczuk, Cláudio Tinoco Mesquita, Rob S. B. Beanlands, Steven Promislow
Wichtige Hinweise
This article is part of the Topical Collection on
Cardiac Nuclear Imaging
Abstract
Purpose of the Review
This review will discuss the current nuclear imaging techniques for defining ischemia and hibernation/viability, their advantages and disadvantages, and the data related to their use to direct revascularization decisions.
Recent Findings
Recent interventional trials highlight the importance of functional imaging in trying to determine who may benefit from revascularization. Outcome benefit from revascularization has previously been shown in patients with significant ischemia, and flow quantification from positron emission tomography (PET) may allow for further risk stratification; similar data may soon be available with single-photon emission computed tomography (SPECT) as well using the newer cadmium-zinc-telluride (CZT) cameras. Some degree of equipoise still exists regarding the utilization of myocardial viability to guide revascularization in patients with ischemic cardiomyopathy, with recent studies presenting conflicting results.
Summary
There is a niche for radionuclide imaging in helping to guide revascularization decision-making, and advances in recent years are providing new mechanisms by which we may better clarify the particular circumstances in which it can and should be applied. However, most data at this time is limited to observational cohorts and inferences from other randomized trials. The results of upcoming trials like ISCHEMIA and AIMI-HF will hopefully provide the needed evidence to support current clinical practice, or may change our algorithms altogether.