12.05.2017 | Original Research | Ausgabe 2/2017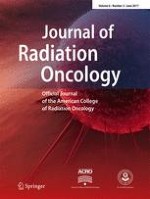 Radiotherapeutic care for brain metastases within the Veterans Health Administration (VHA): Practice patterns and guideline correlation
Zeitschrift:
Autoren:

George A. Dawson, Maria D. Kelly, Sheetal Malhotra, Ruchika Gutt, Shruti Jolly, Drew Moghanaki, Michael Hagan, Helen Fosmire, Lori Hoffman-Hōgg, Stephen Lutz, Alice V. Cheuk, On behalf of the VHA National Palliative Radiotherapy Taskforce
Abstract
Objective
Brain metastases are common and complex to manage. Our goal was to determine practice patterns and adherence to guidelines among VHA Radiation Oncologists (ROs) regarding management of veterans with brain metastases.
Methods
A survey was e-mailed to all VHA ROs. Information queried included employment status, academic appointment, and years in practice. Number of patients with brain metastases seen per year, steroid usage/dosage, use of prognostic scores, and availability of stereotactic radiosurgery (SRS) and palliative care services was asked. ROs were presented with three scenarios involving patients with brain metastases and asked to choose optimal management.
Results
Sixty-four of 82 ROs responded to the questionnaire. All ROs had palliative care services at their facility. Prognostic scores were routinely calculated by 40.6% of ROs. Thirty-one percent of VA facilities performed SRS, and the remaining facilities referred patients out for this technology.
The responses to management of each of the clinical scenarios follows:
1.
(Uncontrolled cancer with hemiplegia, >10 brain metastases, poor Karnofsky Performance Score (KPS), and short life-expectancy (LE)): Sixty-six percent of respondents chose whole-brain radiation (WBRT) and 34% percent chose no intervention/supportive care or steroids only.
2.
(Controlled cancer with hemiplegia, 4–6 metastases, KPS 70, and LE >4 months): Ninety-five percent of ROs recommended WBRT.
3.
(Newly diagnosed cancer without symptoms, 2 brain lesions, KPS 90, and LE >6 months): Forty-four percent would recommend SRS alone while 35.9% would combine SRS with WBRT.
Conclusion
Veterans with brain metastases treated at VHA radiation oncology centers receive evidence-based care and have access to advanced technologies and palliative care services.