08.10.2018 | Research Paper | Ausgabe 8/2018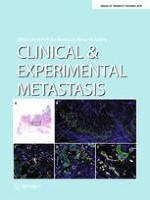 Radiotherapy in palliation of thoracic tumors: a phase I–II study (SHARON project)
Zeitschrift:
Autoren:

Eleonora Farina, Gabriella Macchia, Milly Buwenge, Giambattista Siepe, Alice Zamagni, Silvia Cammelli, Savino Cilla, Tigeneh Wondemagegnhu, Aynalem A. Woldemariam, A. F. M. Kamal Uddin, Mostafà Aziz Sumon, Francesco Cellini, Francesco Deodato, Alessio G. Morganti
Wichtige Hinweise
Francesco Deodato and Alessio G. Morganti have contributed equally.
Abstract
The main clinical goal for patients with advanced or metastatic thoracic cancer is palliation of tumor-related symptoms and improvement of quality of life. The aim of this phase I–II trial was to define the maximum tolerated dose (MTD) of a short-course of palliative radiotherapy (RT) and to evaluate its efficacy in terms of palliative response. A phase I trial was planned with escalating dose increments. Total doses ranged from 16 to 20 Gy delivered (BID) in two consecutive days. Dose limiting toxicity was defined as any acute grade ≥ 3 toxicity based on the RTOG scale. MTD was used in the phase II trial to evaluate the efficacy of this regimen using a two stage Simon's design. Fifty-four patients were enrolled. The upper dose level of 20 Gy was defined as the MTD. In patients treated with this dose, the overall palliative response rate was 96.5% (CI 0.95: 81.3–99.9%). Complete pain relief rate was 50.0%. Median survival without symptomatic progression was 3 months. The tested short course accelerated regimen was well tolerated and effective in the palliative setting of metastatic or locally advanced chest cancer. A phase III trial is ongoing to validate this RT schedule.
Trial registration: NCT03465553.