01.11.2018 | Original Contribution | Ausgabe 6/2018 Open Access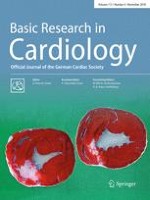 Raf kinase inhibitor protein mediates myocardial fibrosis under conditions of enhanced myocardial oxidative stress
Zeitschrift:
Autoren:

Andrey Kazakov, Rabea A. Hall, Christian Werner, Timo Meier, André Trouvain, Svetlana Rodionycheva, Alexander Nickel, Frank Lammert, Christoph Maack, Michael Böhm, Ulrich Laufs
Wichtige Hinweise
Electronic supplementary material
Abstract
Fibrosis is a hallmark of maladaptive cardiac remodelling. Here we report that genome-wide quantitative trait locus (QTL) analyses in recombinant inbred mouse lines of C57BL/6 J and DBA2/J strains identified Raf Kinase Inhibitor Protein (RKIP) as genetic marker of fibrosis progression. C57BL/6 N-RKIP−/− mice demonstrated diminished fibrosis induced by transverse aortic constriction (TAC) or CCl4 (carbon tetrachloride) treatment compared with wild-type controls. TAC-induced expression of collagen Iα2 mRNA, Ki67+ fibroblasts and marker of oxidative stress 8-hydroxyguanosine (8-dOHG)+ fibroblasts as well as the number of fibrocytes in the peripheral blood and bone marrow were markedly reduced in C57BL/6 N-RKIP−/− mice. RKIP-deficient cardiac fibroblasts demonstrated decreased migration and fibronectin production. This was accompanied by a two-fold increase of the nuclear accumulation of nuclear factor erythroid 2-related factor 2 (Nrf2), the main transcriptional activator of antioxidative proteins, and reduced expression of its inactivators. To test the importance of oxidative stress for this signaling, C57BL/6 J mice were studied. C57BL/6 J, but not the C57BL/6 N-strain, is protected from TAC-induced oxidative stress due to mutation of the nicotinamide nucleotide transhydrogenase gene (Nnt). After TAC surgery, the hearts of Nnt-deficient C57BL/6 J-RKIP−/− mice revealed diminished oxidative stress, increased left ventricular (LV) fibrosis and collagen Iα2 as well as enhanced basal nuclear expression of Nrf2. In human LV myocardium from both non-failing and failing hearts, RKIP-protein correlated negatively with the nuclear accumulation of Nrf2. In summary, under conditions of Nnt-dependent enhanced myocardial oxidative stress induced by TAC, RKIP plays a maladaptive role for fibrotic myocardial remodeling by suppressing the Nrf2-related beneficial effects.