01.12.2014 | Research | Ausgabe 1/2014 Open Access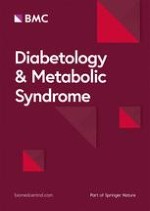 Ramipril inhibits AGE-RAGE-induced matrix metalloproteinase-2 activation in experimental diabetic nephropathy
Zeitschrift:
Autoren:

Kei Fukami, Sho-ichi Yamagishi, Melinda T Coughlan, Brooke E Harcourt, Phillip Kantharidis, Vicki Thallas-Bonke, Seiya Okuda, Mark E Cooper, Josephine M Forbes
Wichtige Hinweise
Electronic supplementary material
The online version of this article (doi:
10.​1186/​1758-5996-6-86
) contains supplementary material, which is available to authorized users.
Competing interests
The authors declare that there are no conflicts of interest.
Authors' contributions
MTC, BEH, PK and VTB kindly managed diabetic and AGE-infused rats and measured urinary albumin excretion and AGE concentrations, and supported western blotting and real-time PCR. SY, SO, MEC and JMF supervised our experiments and the manuscript. All authors have approved the final version of the manuscript.
Abstract
Background
Advanced glycation end products (AGE)-receptor for AGE (RAGE) axis and renin-angiotensin system (RAS) play a role in diabetic nephropathy (DN). Matrix metalloproteinase-2 (MMP-2) activation also contributes to DN. However, the pathological interaction among AGE-RAGE, RAS and MMP-2 in DN remains unknown. We examined here the involvement of AGE and RAS in MMP-2 activation in streptozotocin (STZ)-induced diabetic rats and in AGE-exposed rat renal proximal tubular cells (RPTCs).
Methods
Experimental diabetes was induced in 6-week-old male Sprague–Dawley (SD) rats by intravenous injection of STZ. Diabetic rats received ramipril (3 mg/kg body weight/day) or vehicle for 32 weeks. AGE-modified rat serum albumin (AGE-RSA) or RSA was intraperitoneally administrated to 6-week-old male SD rats for 16 weeks. RPTCs were stimulated with 100 μg/ml AGE-modified bovine serum albumin (AGE-BSA) or BSA in the presence or absence of 10-7 M ramiprilat, an inhibitor of angiotensin-converting enzyme or 100 nM BAY11-7082, an IκB-α phosphorylation inhibitor.
Results
AGE and RAGE expression levels and MMP-2 activity in the tubules of diabetic rats was significantly increased in association with increased albuminuria, all of which were blocked by ramipril. AGE infusion induced tubular MMP-2 activation and RAGE gene expression in SD rats. Ramiprilat or BAY11-7082 inhibited the AGE-induced MMP-2 activation or reactive oxygen species generation in RPTCs. Angiotensin II increased MMP-2 gene expression in RPTCs, which was blocked by BAY11-7082.
Conclusions
Our present study suggests the involvement of AGE-RAGE-induced, RAS-mediated MMP-2 activation in experimental DN. Blockade of AGE-RAGE axis by ramipril may protect against DN partly
via
suppression of MMP-2.