24.01.2019 | Original Article | Sonderheft 3/2019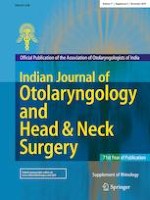 Randomised Comparison of Safety Profile and Short Term Response of Itraconazole, Voriconazole and Amphotericin B in the Management of Chronic Invasive Fungal Rhinosinusitis
Autoren:

Santosh Debbarma, Rijuneeta Gupta, Sourabha K. Patro, Ashok K. Gupta, Promila Pandhi, Nusrat Shafiq
Wichtige Hinweise
This material has never been published and is not currently under evaluation in any other peer-reviewed publication.
Publisher's Note
Springer Nature remains neutral with regard to jurisdictional claims in published maps and institutional affiliations.
Abstract
Chronic invasive fungal rhino sinusitis (CIFS) is a well described clinical entity characterized by mucosal and sub mucosal infiltration of mycotic organisms and angio-centric extension into orbital and intracranial structures. Itraconazole, Voriconazole and Amphotericin B are commonly used for CIFS. In the present study we have evaluated short term clinical response of these drugs. Thirty diagnosed patients of CIFS who presented to us from January 2011 to December 2015 were divided into three groups randomly. Group A, B and C received Itraconazole, Voriconazole and Amphotericin respectively. Visual Analogue scale (VAS), Lund Mackay (LM) radiological scores and Kupferberg's nasal endoscopic grades were seen and compared in all patients before treatment, after primary surgical debridement and biopsy and after post biopsy antifungal drug treatment. We assessed the serum drug levels using HPLC assay at 4 and 8 weeks of therapy and correlated them for efficacy and safety. All the groups had significant improvement after treatment compared to beginning of study. Inter group comparison showed that mean LM, NE and VAS scores were significantly better in Voriconazole group compared to Itraconazole and amphotericin B therapy. The reduction of these objective parameters with treatment was also significantly high in Voriconazole group compared to the other two groups. Voriconazole has shown to be the most effective treatment modality for chronic invasive fungal sinusitis compared to other commonly used drugs such as Itraconazole and Amphotericin B.