01.12.2019 | Research article | Ausgabe 1/2019 Open Access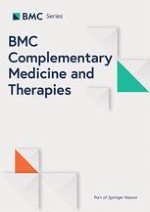 Randomized, double-blind, placebo-controlled phase I dose escalation study of Dan Qi Tong Mai tablet in healthy volunteers
Zeitschrift:
Autoren:

Zhong-ping Gou, Wei Zhang, Xiu-fang Liang, Ying Wang, Ju-hong Mou, Mei Li, Ya Zhang, Ping Feng
Wichtige Hinweise
Zhong-ping Gou and Wei Zhang contributed equally to this work.
Supplementary information
Publisher's Note
Springer Nature remains neutral with regard to jurisdictional claims in published maps and institutional affiliations.
Abstract
Background
This study aims to assess the tolerability and safety of DQTM tablet, which contains a complex mixture of
Salvia miltiorrhiza
salvianolic acids and
Panax notoginseng
saponins.
Methods
A double-blind, randomized, placebo-controlled phase I dose escalation study was conducted in 84 healthy volunteers. In a single ascending dose study, active ingredients were administered in various doses (90, 270, 540, 1080, 1800, 2880, 4320 or 5760 mg) to 60 subjects in cohorts 1–8. In a multiple ascending dose study, active ingredients were administered at doses of 360, 720 or 2160 mg twice daily to 24 subjects in cohorts 9–11 for 14 consecutive days. Safety was evaluated based on clinical symptoms, vital signs, physical examinations, electrocardiography, laboratory tests and adverse events.
Results
No serious adverse events or clinically significant changes in vital signs or electrocardiography were observed. One subject experienced mildly elevated levels of alanine aminotransferase and aspartate transaminase but recovered spontaneously. Five subjects experienced a small increase in the number of daily stools.
Conclusions
DQTM tablet was well tolerated at single doses of up to 5760 mg and twice-daily doses of up to 2160 mg for 14 consecutive days. The most frequent adverse event was an increase in the number of daily stools.