06.12.2018 | Original Article | Ausgabe 3/2019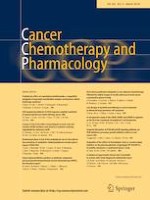 Randomized phase II trial of the prophylactic use of celecoxib for the prevention of oxaliplatin-related peripheral vascular pain in Capeox (YCOG1205)
Zeitschrift:
Autoren:

Yusuke Suwa, Jun Watanabe, Mitsuyoshi Ota, Shinsuke Suzuki, Hirokazu Suwa, Kazuteru Watanabe, Shuji Saito, Koutaro Nagamine, Masashi Momiyama, Atsushi Ishibe, Yusuke Saigusa, Takeharu Yamanaka, Itaru Endo
Abstract
Purpose
Capeox is widely used as an adjuvant chemotherapy regimen of colorectal cancer that does not require central vein catheter insertion. However, oxaliplatin-related vascular pain with peripheral administration is a major adverse event. We assessed the preventive effect of Celecoxib on oxaliplatin-related vascular pain.
Methods
A multicenter study of the Yokohama Clinical Oncology Group (YCOG) in Japan. This study was an open label, randomized non-comparative phase II study between Capeox without Celecoxib (C+ Group) and with it (C− group). The primary endpoint was the appearance frequency of grade ≥ 2 vascular pain according to the Verbal Rating Scale (VRS).
Results
Between October 2012 and February 2014, 81 patients were recruited to this study and randomly divided into 2 groups: 38 patients in the C− group and 39 patients in the C+ group. Four cases were excluded at the analysis stage because they had not received the allocated intervention. The rate of grade ≥ 2 vascular pain was 55.3% in the C− group and 53.8% in the C+ group (
p
 = 1.000).
Conclusions
Celecoxib was unable to prevent oxaliplatin-related vascular pain in this study. However, it may be able to decrease the vascular pain that patients already have.