01.12.2014 | Research | Ausgabe 1/2014 Open Access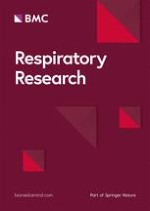 Raphe serotonergic neurons modulate genioglossus corticomotor activity in intermittent hypoxic rats
Zeitschrift:
Autoren:

Jiao Su, Wei Wang, Longfeng Sun, Ting Li, Delei Kong, Jian Kang
Wichtige Hinweise
Electronic supplementary material
The online version of this article (doi:
10.​1186/​1465-9921-15-76
) contains supplementary material, which is available to authorized users.
Competing interests
The authors declare that they have no competing interests.
Authors' contributions
JS carried out the animal experiments, analyzed data, interpreted the data of experiments, drafted manuscript. WW conceived of the study, participated in the design of the study, edited and revised manuscript. LS carried out the 5-HT immunohistochemistry, drafted manuscript. TL performed the statistical analysis, drafted manuscript. DK analyzed data, drafted manuscript. JK participated in the design of the study, interpreted the results of experiments, revised of manuscript. All authors read and approved the final manuscript.
Abstract
Background
Genioglossus activity is greater during wakefulness but decreases to a weaker state during sleep in obstructive sleep apnea syndrome (OSAS) patients, compared to healthy subjects. Previous studies suggested that the corticomotor control of the genioglossus was modified in OSAS patients. Intermittent hypoxia (IH), the typical pathophysiological change in OSAS, can induce genioglossus facilitation. The serotonergic neurons of the raphe dorsal (DRN) and magnus nuclei (RMg) are responsive to hypoxia and play important roles in the control of the genioglossus. However, it remains unknown whether DRN and RMg serotonergic neurons are responsible for the facilitated corticomotor activity of the genioglossus during IH. This study explored the influence of IH on the corticomotor activity of the genioglossus by transcranial magnetic stimulation (TMS), and the role of DRN and RMg serotonergic neurons in this effect.
Methods
Rats were exposed to IH and divided into two groups. In one group, anti-SERT-SAP was microinjected into the DRN and RMg respectively to kill serotonergic neurons. In the other group, artificial cerebrospinal fluid (ACSF) was injected. Comparisons were conducted between the two groups during four weeks of IH and four weeks after IH.
Results
Compared to the corresponding ACSF-injected group, the DRN lesion group and RMg lesion group showed longer TMS latencies and lower amplitudes during IH from the 1st to the 28th day. After 28 days of IH, longer latencies and lower amplitudes were seen only in the DRN lesion group.
Conclusion
These results indicate that DRN and RMg serotonergic neurons play different roles in the facilitation of genioglossus corticomotor activity induced by IH.