01.12.2017 | Case report | Ausgabe 1/2017 Open Access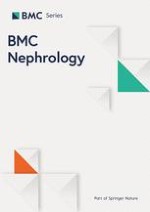 Rapid clinical improvement of amyloid A amyloidosis following treatment with tocilizumab despite persisting amyloid deposition: a case report
Zeitschrift:
Autoren:

Akira Yamagata, Takahiro Uchida, Yuji Yamada, Takashi Nakanishi, Kazue Nagai, Toshihiko Imakiire, Naoki Oshima, Hiroo Kumagai
Abstract
Background
Amyloid A amyloidosis is one of the most common forms of amyloidosis. It is secondary to rheumatoid arthritis, which is difficult to manage and has a poor prognosis. We present a patient with rheumatoid arthritis and amyloid A amyloidosis who was treated with tocilizumab, a humanized monoclonal antibody against interleukin 6 receptor, resulting in improvement in both proteinuria and gastrointestinal symptoms; however, amyloid deposition remained.
Case presentation
A 67-year-old woman who had previously been treated for rheumatoid arthritis presented with abdominal pain and diarrhea. Right renal cell carcinoma was found, and amyloid A amyloidosis was diagnosed concomitantly based on colon biopsy. The renal cell carcinoma was resected, and the non-cancerous part of the renal tissue also showed amyloid A deposition. Following surgery, protein levels in the urine increased to the nephrotic range, and administration of tocilizumab was initiated, which resulted in resolution of the proteinuria. The patient's gastrointestinal symptoms were also alleviated. However, repeat colon biopsy showed amyloid deposition.
Conclusions
This case of amyloid A amyloidosis suggests that amyloid deposition indicates only structural change of the affected tissue, and that it is not amyloid deposition per se that causes the clinical symptoms of amyloidosis.