11.11.2017 | Preclinical study | Ausgabe 1/2018 Open Access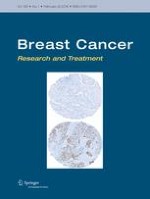 Raptor localization predicts prognosis and tamoxifen response in estrogen receptor-positive breast cancer
Zeitschrift:
Autoren:

Josefine Bostner, Anya Alayev, Adi Y. Berman, Tommy Fornander, Bo Nordenskjöld, Marina K. Holz, Olle Stål
Wichtige Hinweise
Electronic supplementary material
Abbreviations
PI3K
Phosphatidylinositol 3-kinase mechanistic target of rapamycin
mTOR
Mechanistic target of rapamycin
raptor
Regulatory-associated protein of mTOR
4E-BP1
Eukaryotic initiation factor 4E-binding protein 1
S6K1
p70 Ribosomal S6 kinase 1
DMSF
Distant metastasis-free survival
NHG
Nottingham histological grade
TamR
Tamoxifen-resistant MCF7 cells
Background
Materials and methods
Study cohort
During 1976–1990, a randomized trial with postmenopausal breast cancer patients was initiated investigating tamoxifen treatment compared with no endocrine treatment [
20
]. In the present analysis, the low-risk group not receiving chemotherapy was included. This design makes the cohort with collected primary tumors and long-term follow-up data unique, as a treatment predictive value of biomarkers can be assessed when comparing treated with non-treated patient groups [
21
,
22
].
Paraffin-embedded tissues of 912 tumors were used in this study. Tumor tissue was collected on surgical removal of the primary tumor and incubated in formalin for fixation and paraffin embedded. Three cores of abundant tumor cell content were selected to represent each tumor on a tissue microarray (TMA). The ERα status was assessed as previously described [
23
]. For all proteins detected, a portion of samples was missing. In the supplementary table of a previously published paper, missing samples were compared with the samples on TMA and with samples of the original cohort [
24
]. The results show no bias in the missing cases with respect to tumor size, ERα status, or tamoxifen treatment. The present study was designed and presented with regard to the reporting recommendations for tumor marker prognostic studies (REMARK) guidelines [
25
].
Protein detection
Specific protein content of the tumor cells was determined by immunohistochemistry. The PT Link station was used for deparaffinization and antigen retrieval in a low-pH buffer, starting at 65, 96 °C for 20 min and cooled down to 65 °C (DakoCytomation, Glostrup, Denmark). Inactivation of endogenous peroxidase in 3% hydrogen peroxide in water was followed by blocking in serum-free protein block for 10 min (Spring Bioscience, Freemont, CA). TMAs were incubated in a moisturized chamber at 4 °C overnight with the raptor antibody diluted 1:50 (EP539Y-ab40768, Abcam, Cambridge, UK). Secondary rabbit antibody was applied for 30 min, and protein was developed with DAB+chromogen (DakoCytomation) and counterstained with hematoxylin. All wash steps were in phosphate buffer saline including 0.5% bovine serum albumin. The tissue was dehydrated and cover glass was mounted with Pertex (Histolab).
Antibody validation
The breast cancer cell line MDA-MB-231 was transfected with RPTOR siRNA. Protein detection with Western blot showed a specific band at 150 kDa that disappeared after knock-down (Supplementary Fig. A). In addition, a reduction of the direct downstream protein p-4EBP1-s65 was observed. Cells were formalin fixed and paraffin embedded to test the antibody's specificity in the immunocytochemical setting. In cells treated with a control siRNA, raptor was highly expressed in the cytoplasm, whereas in the RPTOR siRNA-treated cells the expression was lower (Supplementary Fig. B).
Scoring
Raptor expression was evaluated on three separate core biopsies for each tumor. Protein expression in tumor cells was scored by two independent observers. For the cytoplasm, four steps of intensity were scored: negative, weak, medium, and strong. For further statistical analysis, negative and weak were considered as low, and medium and strong were considered as high. For the nucleus, four steps of intensity, negative, weak, medium, and strong, were evaluated along with four steps of frequency: 0 was <1%, score 1 was 1–25%, score 2 was 26–75%, and score 3 was >75%. A histological score was calculated by adding intensity to percentage score, with a final score of 0, 2–6, used in Fig.
1
. For further analysis of nuclear raptor, to avoid groups with too small number of patients, the cases were divided into three as equally large groups as possible: low was score 0–3, medium was score 4, and high was score 5–6. Scoring information of other variables used in this study was previously published [
24
,
26
].
×
Cell culture and treatment
MCF7, ZR75-1, T47D, MDA-MB-231, MDA-MB-436, and MDA-MB-468 cells were obtained from American type culture collection (ATCC). Tamoxifen-resistant cells (TamR) were generated by continuous culture of MCF7 cells in the presence of 100 nM 4-hydroxy-tamoxifen for 3 months. Cells were cultured in a humidified incubator with 5% CO2 at 37 °C in Dulbecco's modified Eagle's medium (DMEM) with 10% fetal bovine serum (FBS), 100 I.U. Penicillin, and 100 µg/mL Streptomycin. For experiments, the cells were grown in phenol red-free media with 10% charcoal-stripped FBS for 3 days. All cells were starved in serum-free media for 24 h and stimulated with 10 nM estradiol for 30 min.
Fractionation assay
Following treatment, MCF7, MCF7-TamR, ZR75-1, T47D, MDA-MB-231, and MDA-MB-436 cells were harvested and cytoplasmic and nuclear fractionation was performed using NE-PER® Nuclear and Cytoplasmic Extraction Reagent kit (ThermoFisher Scientific, Hampton, NH) according to the manufacturer's instructions. Samples were subsequently denatured using LDS Sample buffer and Reducing agent (Invitrogen, Carlsbad, CA) at 70 °C for 10 min. Samples were resolved using Bis–Tris Plus gels (Invitrogen, Carlsbad, CA) and transferred onto nitrocellulose membrane (GE Healthcare, Port Washington, NY). Membranes were probed with the following primary antibodies: ERα (sc8005), raptor (sc81537), and mTOR (sc-1549) (Santa Cruz Biotechnology, Dallas, TX), p-ERK (M8159) Sigma-Aldrich (St Louis, MO), PARP (Abcam, Cambridge, UK), p-mTOR-S2448 (5536S), p-Akt-S473 (4060L), Akt (4691X), p-PRAS40-T246 (13175P), p-S6K-T389 (9206S), 4EBP1 (9644S), p-4EBP1-S65 (9454S), and ERK (4695) (Cell Signaling Technologies (Danvers, MA). Signal detection and quantification were accomplished using IRDye-conjugated anti-rabbit (LI-COR, 827-08365, Lincoln, NE), anti-mouse (LI-COR, 926-68070, Lincoln, NE), or anti-goat (LI-COR, 926-68074, Lincoln, NE) secondary antibodies using Odyssey infrared detection instrument (LI-COR, Lincoln, NE). All immunoblots were performed at least thrice to ensure reproducibility.
Immunofluorescence
MCF7 cells were plated on poly-
l
-lysine-coated cover slips (Fisher, Hampton, NH), while T47D, MDA-MB-231, and MDA-MB-468 cells were plated on Geltrex
®
-coated cover slips (Invitrogen, Carlsbad, CA). Following treatment, the cells were fixed in 1% PFA for 10 min, washed twice with PBS, subsequently permeabilized in 0.3% NP-40/PBS for 10 min, and blocked in Image-iT FX signal enhancer solution (Invitrogen, Carlsbad, CA) for 30 min. Cells were incubated with ERα (1:50 dilution, SC-8005 Santa Cruz Biotechnology, Dallas, TX) and raptor (1:400, ab169506 Abcam, Cambridge, UK) primary antibodies in 1% BSA/PBS overnight at 4 °C. Cover slips were subsequently washed in PBS and incubated with Alexa Fluor 488 goat anti-mouse and Alexa Fluor 555 goat anti-rabbit secondary antibodies (1:500 dilution, Invitrogen, Carlsbad, CA) for 1 h at room temperature in the dark. Following 5-min incubation with DAPI, cover slips were mounted using an Image-iT
®
FX signal enhancer (Invitrogen, Carlsbad, CA) and imaged using a Nikon fluorescent microscope under ×40 magnification.
Statistical methodology
Statistical analyses were performed using Statistica 12 (StatSoft/Dell Software, TULSA, OK). For comparisons of raptor protein expression with prognostic and clinical characteristics, the Pearson
χ
2
test was applied for 2 × 2 tables. For rank correlation, the Spearman rank order correlation test was applied. Correlation of raptor nuclear histological score
vs
ERα phosphorylation levels was done with the Kruskal–Wallis H test. Relative risks of distant metastasis were estimated using the Cox proportional hazards model. Distant metastasis-free survival (DMFS) time distributions were compared with the log-rank test and plots were drawn with the Kaplan–Meier method, visualizing time from randomization to first event of distant metastasis. Cox proportional hazards regression was used in interaction analysis exploring raptor expression as a potential predictive factor of tamoxifen benefit. A
p
value <0.05 was considered significant, with the exception of Table
1
where a
p
value <0.01 was considered significant due to adjustment of multiple comparisons.
Table 1
Correlations between raptor protein expression in the cytoplasm, intensity low and high, and in the nucleus, three graded scores of intensity and percentage positive nuclei low, medium, and high, with clinical and pathological variables
Raptor in the cytoplasm

Raptor in the nucleus intensity score

Low

High

Low

Medium

High

All

368 (49)

388 (51)

238 (31)

192 (25)

326 (43)

No tamoxifen

181 (49)

187 (51)

109 (30)

103 (28)

156 (42)

Tamoxifen

187 (48)

201 (52)

0.079 (–)

129 (33)

89 (23)

170 (44)

0.78 (–)

Size <20 mm

284 (50)

284 (50)

164 (29)

131 (23)

273 (48)

Size >20 mm

75 (44)

95 (56)

0.18 (–)

70 (41)

53 (31)

47 (28)

NHG 1

66 (55)

54 (45)

25 (21)

28 (23)

67 (56)

NHG 2

183 (49)

194 (51)

112 (30)

87 (23)

178 (47)

NHG 3

61 (42)

85 (58)

0.031 (–)

66 (45)

47 (32)

33 (21)

ER negative

70 (42)

95 (58)

73 (44)

51 (31)

41 (25)

ER positive

288 (51)

281 (49)

0.064 (–)

162 (28)

132 (23)

275 (48)

PgR negative

152 (47)

173 (53)

132 (41)

79 (24)

114 (35)

PgR positive

175 (51)

169 (49)

0.29 (–)

86 (25)

80 (23)

178 (52)

HER2 negative

312 (51)

304 (49)

192 (31)

153 (25)

271 (44)

HER2 positive

30 (36)

54 (64)

0.010 (–)

34 (40)

24 (29)

26 (31)

0.024 (–)

pAKTs473 c low

174 (62)

108 (38)

115 (41)

67 (24)

100 (35)

pAKTs473 c high

179 (40)

271 (60)

115 (26)

119 (26)

216 (48)

pAKTs473 n low

163 (52)

148 (48)

162 (52)

81 (26)

68 (22)

190 (45)

231 (55)

0.051 (–)

68 (16)

105 (25)

248 (59)

p-mTORs2448 low

309 (48)

330 (52)

210 (33)

166 (26)

263 (41)

p-mTORs2448 high

41 (45)

50 (55)

0.056 (–)

19 (21)

20 (22)

52 (57)

pS6Kt389 c low

178 (58)

131 (42)

101 (33)

82 (27)

126 (41)

pS6Kt389 c high

174 (41)

251 (59)

128 (30)

105 (25)

192 (45)

0.27 (–)

pS6Kt389 n low

229 (51)

222 (49)

192 (43)

121 (27)

138 (31)

pS6Kt389 n high

123 (44)

159 (56)

0.059 (–)

37 (13)

65 (23)

180 (64)

pERs167 low

292 (50)

296 (50)

214 (36)

157 (27)

217 (37)

pERs167 high

73 (45)

90 (55)

0.27 (–)

23 (14)

34 (21)

106 (65)

pERs305 low

247 (52)

225 (48)

175 (37)

134 (28)

163 (35)

pERs305 high

107 (41)

153 (59)

55 (21)

53 (20)

152 (58)

S6K1 c low

335 (51)

325 (49)

207 (31)

171 (26)

282 (43)

S6K1 c high

26 (31)

57 (69)

25 (30)

20 (24)

38 (46)

0.66 (–)

S6K1 n low

311 (50)

307 (50)

203 (33)

162 (26)

253 (41)

S6K1 n high

50 (40)

75 (60)

0.035 (–)

29 (23)

29 (23)

67 (54)

Cyclin D1 low

240 (53)

215 (47)

165 (36)

125 (27)

165 (36)

Cyclin D1 high

121 (44)

152 (56)

0.028 (–)

65 (24)

64 (23)

144 (53)
Results
Discussion
The previous experimental study has demonstrated that when stimulated with estrogen, ERα recruits mTORC1 into the nucleus, which increased ERα transcriptional activity [
18
]. In the current study, we show that our results are in line with these findings in clinical material and associations between nuclear raptor localization, low tumor grade, and ERα/PgR status of breast tumors. A previous study of a small breast cancer cohort found raptor mRNA expression to correlate with higher tumor grade [
30
]. In that study, mRNA was extracted from whole cell lysates, which is more representative of raptor expression in the cytoplasm rather than that of the nucleus, which may explain the apparent difference with our observations.
The ERα and PI3K/mTORC1 signaling pathways regulate cell growth and survival and are important for breast tumor development as these pathways are often dysregulated in breast cancer. Due to their cross-regulation, it is difficult to inhibit either one of them as inhibition of one of the pathways can result in the upregulation of signaling from the other pathway [
31
]. ERα can be activated by either its ligand, 17β-estradiol (E2), or through growth factors by phosphorylation at specific residues [
32
], and we have previously analyzed protein expression of phosphorylated ERα at S167 and S305 [
26
]. In the current work, we showed the correlations between nuclear raptor localization and phosphorylation of both ERα and mTORC1 signaling pathway components, indicating a relationship between raptor and mTOR-driven phosphorylation of ERα. The biological significance of the associations presented in Table
1
needs to be considered carefully as strong statistical significance is easily achieved when the number of observations is high. However, also when considering the r-values some of the correlations are relatively strong with
r
s
= 0.36 for the correlation between raptor and pERs167 (Fig.
1
a) and considering the associations of raptor with pAKTs473 and pS6Kt389 (
r
s
= 0.42 and
r
s
= 0.36, respectively). This is in line with our previous observation of a mechanism that appears to be two-pronged, whereby raptor, binding to the TOS motif of ERα, facilitates direct phosphorylation by mTOR on S104/106 and mTOR-activated kinase S6K1 phosphorylates ERα on S167 of the activation function 1 domain [
15
,
18
,
33
], promoting ERα activation.
Therefore, in estrogen-dependent tumors, the mTORC1 signaling pathway activates ERα signaling to stimulate tumor growth. When the estrogen levels are decreased by aromatase inhibitors or the estrogen action is counteracted by tamoxifen, the mTORC1 pathway could potentially maintain ERα activity at a lower but still steady level via a ligand-independent mechanism, leading to late relapses in spite of adjuvant therapy. Our findings may become clinically important as they indicate a subgroup of ERα-positive patients that benefit poorly from tamoxifen as well as implicate raptor as a potential target for inhibition in endocrine-dependent tumors.
Endocrine resistance may develop during tamoxifen treatment when some tumors switch from luminal A to luminal B subtype, with a loss of PgR expression. In the current study, we found raptor to be preferentially expressed in the nucleus of PgR-expressing tumors. Since only primary tumors were available for analysis, it would be interesting to investigate subcellular raptor localization in metastatic tumors with respect to tamoxifen response.
We observed that high cytoplasmic raptor expression indicated a worse prognosis, a finding that was consistent with the role of increased oncogenic cytoplasmic mTORC1 signaling in breast cancer. Knock-down of either raptor or rictor mitigated the effect of radiation-induced apoptosis, by decreasing entry into S-phase and inducing cell cycle arrest in both G1 and G2 phases [
34
]. This is in line with the proposed function of raptor as a general oncogenic protein as we observed cytoplasmic raptor association with poor breast cancer outcome.
Why raptor in the nucleus correlates with a less malignant phenotype is not fully understood. When raptor enters the nucleus, this results in a concurrent reduction in cytoplasmic raptor levels and mTORC1 activity. If the tumor was dependent on mTORC1 in the cytoplasm for its continuous growth, raptor transfer to the nucleus could depress mTORC1-driven oncogenic activity. Further, nuclear raptor may represent indolent tumors growing under conditions of low levels of estradiol. We have noted the associations of nuclear raptor with the steroid-converting enzymes such as aromatase and 17β-HSD2 that could favor this view (unpublished data). We speculate that a low nuclear raptor expression is found in tumors with strong dependence on estradiol, the most potent ERα activator. Vice versa, high nuclear raptor expression is found in tumors less dependent on estradiol and more dependent on growth factor signaling, called as crosstalk.
Conclusions
Raptor is a key component of mTORC1-driven signaling in breast cancer. We demonstrate that raptor localized in the cytoplasm of tumor cells, probably independent of ERα signaling, is an unfavorable prognostic sign. Interestingly, raptor presence in the nucleus seems to be involved in maintaining ERα-dependent growth despite endocrine treatment, probably representing indolent forms of luminal breast cancer. Accordingly, nuclear raptor expression was associated with good outcome, although with reduced clinical benefit from tamoxifen. Hence, we suggest a two-sided raptor function in close relation with estrogen signaling that can be visualized by subcellular localization: a cytoplasmic raptor with an ER-independent and a nuclear raptor with an ER-cooperative role.
Acknowledgements
A special thanks to Karl Lindgren, Birgitta Holmlund, and Dennis Sgroi for technical assistance and grading, respectively.
Funding
This study was supported by grants from the Swedish Cancer Society, the Region of Östergötland, the Cancer Society in Stockholm, and the King Gustav V Jubilee Clinical Research Foundation, and also by grants from the National Cancer Institute (NCI), American Cancer Society, and Atol Charitable Trust to MKH.
Compliance with ethical standards
Conflict of interest
The authors declare that they have no competing interests.
Ethical approval
Ethical approval for the cohort was obtained from the Karolinska Institute Ethics Council, with an approved addition 02-01-2003. According to the approval, informed consent from the patients was not required.
Open Access
This article is distributed under the terms of the Creative Commons Attribution 4.0 International License (
http://​creativecommons.​org/​licenses/​by/​4.​0/​
), which permits unrestricted use, distribution, and reproduction in any medium, provided you give appropriate credit to the original author(s) and the source, provide a link to the Creative Commons license, and indicate if changes were made.