01.12.2017 | Case report | Ausgabe 1/2017 Open Access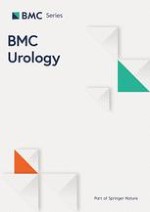 Rare adrenal gland incidentaloma: an unusual Ewing's sarcoma family of tumor presentation and literature review
Zeitschrift:
Autoren:

Hui Guo, Shuaiqi Chen, Shukun Liu, Kaixuan Wang, Erpeng Liu, Faping Li, Yuchuan Hou
Abstract
Background
Members of the Ewing's sarcoma family of tumor (ESFT) are malignant neoplasms and rarely observed in the adrenal gland.
Case presentation
We report an extremely exceptional case of ESFT rising from the adrenal gland in a 57-year-old Chinese man. The patient was hospitalized with abdominal swelling for 2 months. Computed tomography (CT) scan revealed a nearly-circular mass measuring about 8.1 × 10.6 cm in the right adrenal region. The patient underwent right adrenal resection. Histopathologic examination found the tumor was composed of small round blue cells forming typical Homer-Wright rosettes in focal area. The immunohistochemical analysis confirmed the case to be ESFT, which was positive for membranous CD99 and nuclear FLI-1. The patient was scheduled for four courses of large doses of chemotherapy and died for cancer metastasis one year later after surgery.
Conclusions
Histopathological evidence of Homer-Wright rosettes and immunohistochemical markers positivity, such as CD99 and FLI-1, are valuable factors for ESFT diagnosis, although cytogenetic analysis is considered as the gold standard. Complete surgery is the treatment of choice for ESFT and adjuvant radiotherapy and combination chemotherapy can significantly improve the survival rate of postoperative patients.