28.01.2020 | Neurology and Preclinical Neurological Studies - Review Article | Ausgabe 2/2020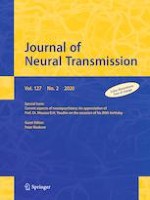 Rasagiline and selegiline modulate mitochondrial homeostasis, intervene apoptosis system and mitigate α-synuclein cytotoxicity in disease-modifying therapy for Parkinson's disease
Zeitschrift:
Autoren:

Makoto Naoi, Wakako Maruyama, Masayo Shamoto-Nagai
Wichtige Hinweise
Publisher's Note
Springer Nature remains neutral with regard to jurisdictional claims in published maps and institutional affiliations.
Abstract
Parkinson's disease has been considered as a motor neuron disease with dopamine (DA) deficit caused by neuronal loss in the substantia nigra, but now proposed as a multi-system disorder associated with α-synuclein accumulation in neuronal and non-neuronal systems. Neuroprotection in Parkinson's disease has intended to halt or reverse cell death of nigro-striatal DA neurons and prevent the disease progression, but clinical studies have not presented enough beneficial results, except the trial of rasagiline by delayed start design at low dose of 1 mg/day only. Now strategy of disease-modifying therapy should be reconsidered taking consideration of accumulation and toxicity of α-synuclein preceding the manifest of motor symptoms. Hitherto neuroprotective therapy has been aimed to mitigate non-specific risk factors; oxidative stress, mitochondrial dysfunction, apoptosis, deficits of neurotrophic factors (NTFs), inflammation and accumulation of pathogenic protein. Future disease-modify therapy should target more specified pathogenic factors, including deregulated mitochondrial homeostasis, deficit of NTFs and α-synuclein toxicity. Selegiline and rasagiline, inhibitors of type B monoamine oxidase, have been proved to exhibit potent neuroprotective function: regulation of mitochondrial apoptosis system, maintenance of mitochondrial function, increased expression of genes coding antioxidant enzymes, anti-apoptotic Bcl-2 and pro-survival NTFs, and suppression of oligomerization and aggregation of α-synuclein and the toxicity in cellular and animal experiments. However, the present available pharmacological therapy starts too late to reverse disease progression, and future disease-modifying therapy should include also non-pharmacological complementary therapy during the prodromal stage.