30.06.2017 | Original Article | Ausgabe 5/2017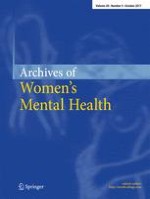 Rating scale item assessment of self-harm in postpartum women: a cross-sectional analysis
Zeitschrift:
Autoren:

Jessica L. Coker, Shanti P. Tripathi, Bettina T. Knight, Page B. Pennell, Everett F Magann, D. Jeffrey Newport, Zachary N. Stowe
Wichtige Hinweise
Presented in part at the 167th annual American Psychiatric Association meeting 2014 in New York City, New York, on May 3–7, 2014
Abstract
We examined the utility of screening instruments to identify risk factors for suicidal ideation (SI) in a population of women with neuropsychiatric illnesses at high risk for postpartum depression. Pregnant women with neuropsychiatric illness enrolled prior to 20 weeks of gestation. Follow-up visits at 4–8-week intervals through 13 weeks postpartum included assessment of depressive symptoms with both clinician and self-rated scales. A total of 842 women were included in the study. Up to 22.3% of postpartum women admitted SI on rating scales, despite the majority (79%) receiving active pharmacological treatment for psychiatric illness. Postpartum women admitting self-harm/SI were more likely to meet criteria for current major depressive episode (MDE), less than college education, an unplanned pregnancy, a history of past suicide attempt, and a higher score on the Childhood Trauma Questionnaire. In women with a history of neuropsychiatric illness, over 20% admitted SI during the postpartum period despite ongoing psychiatric treatment. Patient-rated depression scales are more sensitive screening tools than a clinician-rated depression scale for +SI in the postpartum period.