01.12.2014 | Original Paper | Ausgabe 4/2014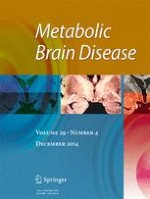 Rats with minimal hepatic encephalopathy due to portacaval shunt show differential increase of translocator protein (18 kDa) binding in different brain areas, which is not affected by chronic MAP-kinase p38 inhibition
Zeitschrift:
Autoren:

Ana Agusti, Jennifer L. Dziedzic, Vicente Hernandez-Rabaza, Tomas R. Guilarte, Vicente Felipo
Wichtige Hinweise
Electronic supplementary material
The online version of this article (doi:
10.​1007/​s11011-013-9461-8
) contains supplementary material, which is available to authorized users.
Abstract
Neuroinflammation plays a main role in neurological deficits in rats with minimal hepatic encephalopathy (MHE) due to portacaval shunt (PCS). Treating PCS rats with SB239063, an inhibitor of MAP-kinase-p38, reduces microglial activation and brain inflammatory markers and restores cognitive and motor function. The translocator protein-(18-kDa) (TSPO) is considered a biomarker of neuroinflammation. TSPO is increased in brain of PCS rats and of cirrhotic patients that died in hepatic coma. Rats with MHE show strong microglial activation in cerebellum and milder in other areas when assessed by MHC-II immunohistochemistry. This work aims were assessing: 1) whether binding of TSPO ligands is selectively increased in cerebellum in PCS rats; 2) whether treatment with SB239063 reduces binding of TSPO ligands in PCS rats; 3) which cell type (microglia, astrocytes) increases TSPO expression. Quantitative autoradiography was used to assess TSPO-selective 3H-(R)-PK11195 binding to different brain areas. TSPO expression increased differentially in PCS rats, reaching mild expression in striatum or thalamus and very high levels in cerebellum. TSPO was expressed in astrocytes and microglia. Treatment with SB239063 did not reduces 3[H]-PK11195 binding in PCS rats. SB239063 reduces microglial activation and levels of inflammatory markers, but not binding of TSPO ligands. This indicates that SB239063-induced neuroinflammation reduction in PCS rats is not mediated by effects on TSPO. Also, enhanced TSPO expression is not always associated with cognitive or motor deficits. If enhanced TSPO expression plays a role in mechanisms leading to neurological alterations in MHE, SB239063 would interfere these mechanisms at a later step.