17.09.2016 | Fertility Preservation | Ausgabe 12/2016 Open Access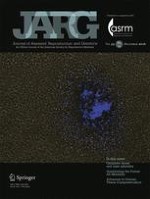 Re-implantation of cryopreserved ovarian cortex resulting in restoration of ovarian function, natural conception and successful pregnancy after haematopoietic stem cell transplantation for Wilms tumour
Zeitschrift:
Autoren:

C. E. Dunlop, B. M. Brady, M. McLaughlin, E. E. Telfer, J. White, F. Cowie, S. Zahra, W. H. B. Wallace, R. A. Anderson
Wichtige Hinweise
Capsule
The first re-implantation of cryopreserved ovarian cortex in the UK has resulted in restoration of ovarian function and natural conception, with detectable and rising AMH levels.
Abstract
With the improvement of long-term cancer survival rates, growing numbers of female survivors are suffering from treatment-related premature ovarian insufficiency (POI). Although pre-treatment embryo and oocyte storage are effective fertility preservation strategies, they are not possible for pre-pubertal girls or women who cannot delay treatment. In these cases, the only available treatment option is ovarian cortex cryopreservation and subsequent re-implantation. A 32-year-old woman had ovarian cortex cryopreserved 10 years previously before commencing high-dose chemotherapy and undergoing a haematopoietic stem cell transplant for recurrent adult Wilms tumour, which resulted in POI. She underwent laparoscopic orthotopic transplantation of cryopreserved ovarian cortex to the original site of biopsy on the left ovary. She ovulated at 15 and 29 weeks post-re-implantation with AMH detectable, then rising, from 21 weeks, and conceived naturally following the second ovulation. The pregnancy was uncomplicated and a healthy male infant was born by elective Caesarean section at 36+4 weeks gestation. This is the first report of ovarian cortex re-implantation in the UK. Despite the patient receiving low-risk chemotherapy prior to cryopreservation and the prolonged tissue storage duration, the re-implantation resulted in rapid restoration of ovarian function and natural conception with successful pregnancy.