03.02.2020 | Original Article | Ausgabe 5/2020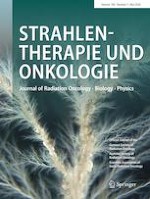 Re-irradiation for recurrent glioblastoma multiforme: a critical comparison of different concepts
Zeitschrift:
Autoren:

A. Baehr, D. Trog, M. Oertel, S. Welsch, K. Kröger, O. Grauer, U. Haverkamp, H. T. Eich
Abstract
Purpose
Purpose of this study was to investigate outcome and toxicity of re-irradiation for recurrent primary glioblastoma (rGBM). We evaluated a group of patients with rGBM and identical primary treatment comprising adjuvant radiotherapy (30 × 2 Gy) with concurrent temozolomide (TMZ).
Methods
In this retrospective study of 46 patients, all received adjuvant or definitive normofractionated radiotherapy to a pretreated area, some with concurrent chemotherapy. Impact of different clinical, histological, or epidemiological factors on survival and radiation toxicity was reviewed.
Results
Of 46 patients, 40 completed the intended therapy. Overall survival (OS) was 20 months (range 6–72 months). Overall survival and progression-free survival after re-irradiation (OS2 and PFS2) were 9.5 and 3.4 months (range 2–40 and 0.7–44 months). Simultaneous systemic therapy improved PFS2 and OS2 (4.3 vs. 2.0,
p
 < 0.001 and 12 vs. 4 months,
p
 = 0.13, respectively). Therapy with TMZ or bevacizumab improved PFS2 vs. nitrosureas (6.6 vs. 2.9,
p
 = 0.03 and 5.1 vs. 2.9 months,
p
 = 0.035, respectively). TMZ also improved PFS2 and OS2 vs. all other systemic therapies (6.6 vs. 4,
p
 < 0.001 and 17 vs. 10 months,
p
 = 0.1). In a subgroup analysis for patients with methylation of the MGMT promoter, doses of >36 Gy as well as TMZ vs. no systemic therapy improved PFS2 (
p
 = 0.045 and
p
 = 0.03, respectively). 27.5% of all patients had no acute toxicity. Three patients with acute and four patients with late grade 3 toxicities were reported.
Conclusion
Normofractionated radiotherapy is a feasible option for rGBM with a good toxicity profile. Simultaneously applied systemic therapy was associated with improved outcome. For MGMT promoter-methylated histology, higher radiation doses improved survival.