01.12.2018 | Research | Ausgabe 1/2018 Open Access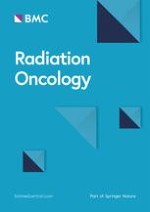 Re-irradiation in lung disease by SBRT: a retrospective, single institutional study
Zeitschrift:
Autoren:

Donatella Caivano, Maurizio Valeriani, Sara De Matteis, Paolo Bonome, Ivana Russo, Vitaliana De Sanctis, Giuseppe Minniti, Mattia Falchetto Osti
Abstract
Background
The loco regional relapse is frequent in the lung disease. The aim of this study was to evaluate the outcomes of re-irradiation by SBRT in terms of Local Control (LC) and toxicities.
Methods
From April 2011 to December 2016, twenty-two patients received a re-irradiation by SBRT. Twenty- seven lesions were treated. The medium BED(10) of re-irradiation was 100.6 Gy (range: 48–151.2 Gy) and the medium EQD2(10) was 93.8 Gy (range: 40–126 Gy). In the previous treatment the medium BED(10) was 97.2 Gy (range: 40–120 Gy), the medium EQD2(10) was 81 Gy (range: 32.5–100 Gy). The median time between the first and the second treatment was 18 months.
Results
Local Control was reached in 18 out of 27 (66%) re-irradiated lesions, with rates of 67 and 54% at 1- year and 2- years respectively. The treatment was well tolerated; the maximum recorded toxicity was Grade 3.
Conclusions
Re- irradiation by SBRT may represent an option for the treatment of lung disease with good results in terms of LC and toxicity.