01.03.2012 | Case report | Ausgabe 1/2012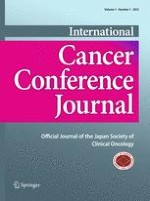 Reactivation of cytomegalovirus following treatment of malignant glioma with temozolomide
Zeitschrift:
Autoren:

Yoshiko Okita, Yoshitaka Narita, Yasuji Miyakita, Makoto Ohno, Kohki Aihara, Shinichiro Mori, Takamasa Kayama, Soichiro Shibui
Abstract
Temozolomide is a standard chemotherapeutic agent in the treatment of malignant gliomas. Lymphocytopenia is reported to be the most frequent and severe adverse effect, which causes opportunistic infections such as pneumocystis pneumonia (PCP) and increases the risk of the reactivation of viruses such as hepatitis B virus (HBV) and cytomegalovirus (CMV). However, the incidence of temozolomide-induced CMV reactivation remains unclear. We report on a case of a 62-year-old female with gliomatosis cerebri who had severe lymphocytopenia and pneumonia following concurrent temozolomide treatment and prophylaxis for PCP. She presented cough, fever, and severe lymphocytopenia 1 month after chemoradiotherapy with temozolomide. Her serum β-
d
-glucan levels remained within the normal range, which was helpful to rule out a diagnosis of PCP. Other opportunistic infections were ruled out, and a blood test for the CMV antigen was positive for pp65 antigenemia. The patient was diagnosed as having CMV pneumonia. She was treated with ganciclovir and recovered. It was very difficult to distinguish between PCP and CMV pneumonia with only the clinical presentation and radiological findings. When a patient receives temozolomide, it is important to be aware of the potential for a CMV reactivation. The serum
β
-
d
-glucan levels and pp65 antigenemia are very useful for diagnosis of CMV pneumonia.