01.12.2017 | Research article | Ausgabe 1/2017 Open Access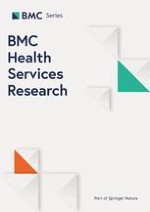 Readmission and mortality in patients discharged with a diagnosis of medical observation and evaluation (Z03*-codes) from an acute admission unit in Denmark: a prospective cohort study
Zeitschrift:
Autoren:

Kåre Melchior Hansen, Henrik Nielsen, Betina Vest-Hansen, Anders Møllekær, Reimar Wernich Thomsen, Ole Mølgaard, Hans Kirkegaard, Elisabeth Svensson
Abstract
Background
We assessed the 30-day risk of readmission and mortality among patients receiving an International Classification of Diseases 10th edition diagnosis of medical observation and evaluation (Z03*) following admission to an acute medical admission unit (AMAU), stratified on any further specification of diagnosis during hospital stay.
Methods
We used Central Denmark's (Midt)-Electronic Patient Journal to identify patients with a Z03*-diagnosis among patients admitted to the AMAU, Aarhus University Hospital Nørrebrogade from April 2012 to March 2013, and noted any specification of diagnosis. Patients were followed from hospital discharge until death, emigration, or completion of 30 days follow-up.
Results
Of 409 patients with an initial Z03* diagnosis at the AMAU, 55% (
n
 = 226) received a more specific discharge diagnosis after transferral to other departments. Among patients discharged to home with a Z03*-diagnosis, 30% were readmitted within 30 days, while the corresponding figure was 23% for patients receiving a specific diagnosis (
p
 = 0.06). In contrast, corresponding figures for 30-day mortality were 3% for Z03*-diagnosed patients and 10% for those who obtained a specific diagnosis (
p
 = 0.003).
Conclusions
Patients diagnosed with Z03* at hospital discharge have a substantially lower 30-day mortality, but a higher readmission-rate, compared to patients who obtain a specific diagnosis during the entire hospital stay.