01.12.2017 | Research | Ausgabe 1/2017 Open Access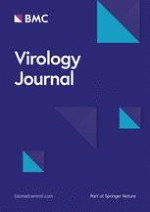 Real-life prevalence of resistance-associated variants against non-structural protein 5A inhibitors and efficiency of Daclatasvir + Asunaprevir therapy in Korean patients with genotype 1b hepatitis C
Zeitschrift:
Autoren:

Jung Hwan Yu, Jung Il Lee, Kwan Sik Lee, Ja Kyung Kim
Abbreviations
AST
aspartate aminotransferase
INR
international normalized ratio
ITP
idiopathic thrombocytopenic purpura
RAV
resistance-associated variant
SVR
sustained virologic response
Background
Methods
Patients
All consecutive patients with CHC who took the NS5A RAVs test from August 2015 to May 2016 were enrolled. Medical records were retrospectively reviewed, and data were collected from a single referral hospital, in Seoul, Korea. Patients were at least 20 years of age, with confirmed CHC genotype 1b infection and HCV RNA levels ≥10,000 IU/ml. Liver cirrhosis (LC) was diagnosed clinically by morphologic changes of cirrhosis on imaging studies or other signs of portal hypertension, such as portosystemic shunt or hypersplenism. This study was approved by the ethics committee of our hospital, and the need for informed consent was waived.
Laboratory tests
HCV RNA was quantified using the Roche COBAS TaqMan assay (Roche Molecular Diagnostics, Pleasanton, CA, USA) with a lower limit of quantification of 15 IU/mL. HCV genotype and subtype were assessed using HCV genotyping kit (Biosewoom Inc., Seoul, Korea). The sequencing of a 408 bp fragment in the core gene and 293 bp fragment in the 5′ untranslated region (UTR) were used to assign genotypes. Genotypes of the strains were analyzed using the HCV sequence database (
https://​hcv.​lanl.​gov
).
Direct sequencing of HCV NS5A Y93 and L31 gene regions from plasma samples was performed. Viral RNA was isolated from 200 μL plasma samples utilizing the QIA Amp MiniElute Virus Vacuum Kit (Catalog No. 57714 Qiagen, Inc. Valencia, CA) and the QiaCube workstation. Viral RNA was eluted in 25 uL of elution buffer and 20 uL of eluate was used in the cDNA preparation. The extracted RNA was reverse transcribed and amplified by the PCR method using the SuperScript III One-Step RT-PCR System with Platinum Taq DNA Polymerase (Invitrogen) with the pairs of primers as follows: sense (5872–5891) 5′-AAGAGGCTCCACCAGTGGAT-3′ and antisense (6730–6749) 5′-CGCCGGAGCGTACCTGTGCA-3′. The PCR products were purified using a QIAquick PCR Purification Kit (QIAGEN) and sequenced using an automated DNA sequencer (3730xl DNA Analyzer, Applied Biosystems). Two primer sets for sequencing through the NS5A L31 and Y93 coding regions are: forward sequencing primer (1bseqF2) 5′-TCCGGCTCGTGGCTAAGAGATGTTTGGG-3′ and reverse sequencing primer (1bseqR5) 5′-CAGTGGTCATGCCCGTCACGTAGTG-3′. Each sequence was confirmed for the sense and antisense strands. If minor sequences of RAV were detected in more than 10% of the strength of the major sequence, it was regarded as RAV positive. [
15
]
Treatment
HCV treatment was based on guidelines of the Korean Association for the Study of the Liver (KASL). [
16
] According to the guidelines presented in 2015, patients with NS5A RAVs were recommended to be treated with ledipasvir/sofosbuvir. If patients without NS5A RAVs agreed to CHC treatment with firstly approved DAAs, DCV + ASV, they received DCV (one 60 mg tablet once daily) and ASV (one 100 mg capsule twice daily) combination therapy for 24 weeks as guidelines recommended. Patients were followed-up during treatment and for more than 12 weeks. Virologic response was defined as undetectable HCV RNA level at each time point. Virologic responses on week 4 of treatment, at the end of treatment, and 12 weeks post-treatment were checked. Before starting these therapies, the presence of current liver cirrhosis or a past patient's history of IFN-based treatment was not considered for exclusion. However, patients who were currently being treated for HCC or refused to be treated were excluded from receiving DCV + ASV therapy.
Statistical analysis
Continuous variables were presented as mean ± SD or median (interquartile range). Categorical variables were compared between groups by the chi-squared test. The Student's t-test was used to compare the mean of continuous variables. A value of
p
< 0.05 was considered statistically significant. All statistical tests were performed with PASW version 17.0 (IBM Corp., Armonk, NY, USA).
Results
Discussion
According to our results, the RAV-positive incidence was not different in patients who was naïve or who failed prior IFN-based treatment. Furthermore, in patients with accompanying cirrhosis, the RAV-positive incidence was not statistically different. It is assumed that these patients have been infected with viruses for a long time and have retained viruses with diverse mutations, but again, the exact causes are not known. However, good treatment performance was observed in RAV-negative patients in this study, regardless of presence of cirrhosis or whether prior IFN-based treatments had failed. Patients who reached virologic response during treatment also reached SVR12 without much difficulty.
Limitations of the study are the limited sample size and dataset from a single center study. Although hepatitis B is endemic in Korea, Hepatitis C is not as prevalent as in Japan or in western countries. Thus, sample size is relatively small comparing other reports form these regions. These clinical data are collected in one tertiary referral hospital. Therefore, patients nationwide are included even though these results can not accurately reflect the patient across the country.
Conclusions
In patients with HCV infection, when RAV is not present, DCV + ASV therapy has shown good treatment performance regardless of the presence of cirrhosis or previous IFN-based treatment experience. Therefore, DCV + ASV therapy can be expected to be actively used to treat CHC genotype 1b without NS5A RAVs. However, since there are a considerable number of RAV-positive cases, other DAA regimens need to be considered. The possibility of complications resulting from the treatment, although rare, needs to be considered and monitored with regular hepatic function tests.
Acknowledgements
The authors thank Ms. Ah Young Kang for her support of this study.
Availability of data and materials
Not applicable.
Ethics approval and consent to participate
This study protocol was approved by the Ethics Committee of Yonsei University. (approved No. 3–2016-0145)
Consent for publication
Not applicable.
Competing interests
The authors declare that they have no competing interests.
Publisher's Note
Springer Nature remains neutral with regard to jurisdictional claims in published maps and institutional affiliations.
Open Access
This article is distributed under the terms of the Creative Commons Attribution 4.0 International License (
http://​creativecommons.​org/​licenses/​by/​4.​0/​
), which permits unrestricted use, distribution, and reproduction in any medium, provided you give appropriate credit to the original author(s) and the source, provide a link to the Creative Commons license, and indicate if changes were made. The Creative Commons Public Domain Dedication waiver (
http://​creativecommons.​org/​publicdomain/​zero/​1.​0/​
) applies to the data made available in this article, unless otherwise stated.