10.11.2017 | Original Research | Ausgabe 1/2018 Open Access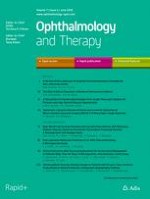 Real-World Cost Savings Demonstrated by Switching Patients with Refractory Diabetic Macular Edema to Intravitreal Fluocinolone Acetonide (Iluvien): A Retrospective Cost Analysis Study
Zeitschrift:
Autoren:

Soon W. Ch'ng, Alexander J. Brent, Theodoros Empeslidis, Vasileios Konidaris, Somnath Banerjee
Abstract
Introduction
It is hypothesized that using fluocinolone acetonide (FAc) implants such as Iluvien for the treatment of diabetic macular edema (DME) may reduce the total number of intravitreal injections and clinic visits, resulting in an overall treatment cost reduction. The primary aim of this study is to identify the real-world cost savings achievable in a tertiary National Health Service (NHS) hospital.
Methods
A retrospective cost analysis study was conducted. The inclusion criteria were patients with refractory DME who were switched to Iluvien. The average yearly costs were calculated both before and after the switch to Iluvien. All costs including medicines, investigations, clinics, and management of raised intraocular pressure (IOP) were calculated. The cost differences over the 3 years' worth of Iluvien treatment were calculated and analyzed. To ensure non-inferiority of this treatment intervention, the best corrected visual acuity (BCVA) and central retinal thickness (CRT) were also analyzed. Statistical analysis was conducted with a Student
t
test where appropriate and statistical significance is identified where
p
< 0.05.
Results
Fourteen eyes of 13 patients met the inclusion criteria. Switching patients to Iluvien achieved on average a saving of £2606.17 per patient (
p
= 0.33) over the 3 years. However, seven cases (50%) had a rise in IOP after Iluvien that warranted medical treatment and two cases (14.3%) required glaucoma surgery. Incorporating the costs of glaucoma management reduced the overall savings over 3 years to £1064.66 per patient. The BCVA and CRT analysis showed a non-inferiority relationship between Iluvien and any previous treatment.
Conclusions
The use of Iluvien in refractory DME patients represents a cost- and time-saving procedure, while showing non-inferiority in terms of efficacy.