13.05.2018 | Original Article | Ausgabe 9/2018 Open Access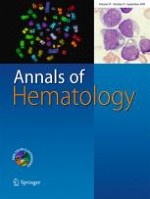 Real-world data on Len/Dex combination at second-line therapy of multiple myeloma: treatment at biochemical relapse is a significant prognostic factor for progression-free survival
Zeitschrift:
Autoren:

Eirini Katodritou, Marie-Christine Kyrtsonis, Sosana Delimpasi, Despoina Kyriakou, Argiris Symeonidis, Emmanouil Spanoudakis, Georgios Vasilopoulos, Achilles Anagnostopoulos, Anna Kioumi, Panagiotis Zikos, Anthi Aktypi, Evangelos Briasoulis, Aikaterini Megalakaki, Panayiotis Repousis, Ioannis Adamopoulos, Dimitrios Gogos, Maria Kotsopoulou, Vassiliki Pappa, Eleni Papadaki, Despoina Fotiou, Eftychia Nikolaou, Evlambia Giannopoulou, Eleftheria Hatzimichael, Nikolaos Giannakoulas, Vassiliki Douka, Kyriaki Kokoviadou, Despoina Timotheatou, Evangelos Terpos
Wichtige Hinweise
The original version of this article was revised: The original version of this article contained a mistake. The name of Eirini Katroditou should have been Eirini Katodritou.
Abstract
We evaluated progression-free survival (PFS) rate of patients treated with lenalidomide/dexamethasone (Len/Dex), the efficacy of the combination, and the prognostic significance of treatment at biochemical vs. clinical relapse on PFS in 207 consecutive myeloma patients treated with Len/Dex in second line, according to routine clinical practice in Greece. First-line treatment included bortezomib-based (63.3%) or immunomodulatory drug-based (34.8%) therapies; 25% of patients underwent autologous stem cell transplantation. Overall response rate was 73.4% (17.8% complete response and 23.7% very good partial response); median time to best response was 6.7 months. Overall, median PFS and 12-month PFS rate was 19.2 months and 67.6%, respectively. 67.5% of patients had biochemical relapse and 32.5% had clinical relapse prior to initiation of Len/Dex. Median PFS was 24 months for patients treated at biochemical relapse vs. 13.2 months for those treated at clinical relapse (HR:0.63,
p
 = 0.006) and the difference remained significant after adjustment for other prognostic factors. Type of relapse was the strongest prognostic factor for PFS in multivariate analysis. These real-world data confirm the efficacy of Len/Dex combination at first relapse; more importantly, it is demonstrated for the first time outside a clinical trial setting that starting therapy with Len/Dex at biochemical, rather than at clinical relapse, is a significant prognostic factor for PFS, inducing a 37% reduction of the probability of disease progression or death.