18.06.2020 | Original Research | Ausgabe 8/2020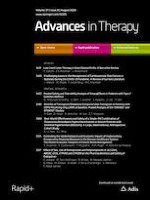 Real-World Effectiveness and Safety of a Single-Pill Combination of Olmesartan/Amlodipine/Hydrochlorothiazide in Korean Patients with Essential Hypertension (RESOLVE): A Large, Observational, Retrospective, Cohort Study
Zeitschrift:
Autoren:

Sung-Ji Park, Si Jae Rhee
Wichtige Hinweise
Electronic supplementary material
Abstract
Background
The efficacy and safety of a single-pill combination (SPC) of olmesartan/amlodipine/hydrochlorothiazide (OLM/AML/HCTZ) have been established previously through multiple studies. However, the real-world data in Korean patients are still limited. This study evaluated the effectiveness and safety of SPC of OLM/AML/HCTZ in a real practice setting in Korean patients with essential hypertension.
Methods
This was an observational, retrospective, multi-center, non-comparative cohort study. Medical records of 9749 patients with essential hypertension who had been prescribed OLM/AML/HCTZ within 1 year of the study were analyzed. The primary outcome was the achievement rate (%) of the target blood pressure goal of a systolic blood pressure (SBP) of < 140 mmHg and a diastolic blood pressure (DBP) of < 90 mmHg following administration of OLM/AML/HCTZ. The secondary outcomes included the rate of BP control measured at each visit, the amount of BP reduction compared to the index date, and the prescribing patterns of OLM/AML/HCTZ. Safety and tolerability were assessed by the incidence rate of adverse events (AEs) and discontinuation.
Results
In the effectiveness analysis set (
n
 = 9604), the overall achievement rate of target BP was 82.56%. The mean SBP/DBP was significantly reduced compared to baseline at all visits (all
p
 < 0.0001), with the greatest reduction occurring at week 2. The achievement rate of target BP was above 71%, regardless of the presence of risk factors (diabetes mellitus, DM; cardiovascular disease, CVD; chronic kidney disease, CKD). Patients with CVD and aged > 65 years showed a significantly higher achievement rate (
p
 < 0.05). A significant relationship existed between the primary outcome and age (
p
 < 0.0001). The achievement rate exceeded 74% in all different age groups. In the safety analysis set (
n
 = 9661), AEs were reported in 8.46% of patients, with the most frequent AE being dizziness. Serious adverse events (SAEs) and unexpected adverse events (UAEs) occurred in 0.96% and 3.73% patients, respectively. This was consistent with the previously reported safety profile of OLM/AML/HCTZ. The majority of AEs were mild to moderate and resolved during the observation period. The discontinuation rate of OLM/AML/HCTZ due to AEs was 1.67%.
Conclusion
This study demonstrated significant effectiveness of OLM/AML/HCTZ in achieving target BP in Korean patients with essential hypertension. OLM/AML/HCTZ was well tolerated.