06.04.2018 | Original Article—Liver, Pancreas, and Biliary Tract | Ausgabe 10/2018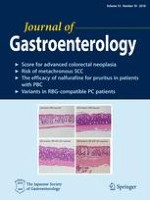 Real-world efficacy and safety of ledipasvir and sofosbuvir in patients with hepatitis C virus genotype 1 infection: a nationwide multicenter study by the Japanese Red Cross Liver Study Group
Zeitschrift:
Autoren:

Keiji Tsuji, Masayuki Kurosaki, Jun Itakura, Nami Mori, Shintaro Takaki, Chitomi Hasebe, Takehiro Akahane, Kouji Joko, Hitoshi Yagisawa, Jirou Takezawa, Ryou Nakata, Atsunori Kusakabe, Yuji Kojima, Hiroyuki Kimura, Takashi Tamada, Haruhiko Kobashi, Akeri Mitsuda, Masahiko Kondou, Chikara Ogawa, Yasushi Uchida, Tetsuro Sohda, Ryouichi Narita, Namiki Izumi
Abstract
Background
We aimed to describe the real-world efficacy and safety of combination therapy with ledipasvir and sofosbuvir (LDV/SOF) for chronic hepatitis C virus (HCV) genotype 1 (GT1) infection.
Methods
This retrospective analysis of a prospective, nationwide, multicenter registry included GT1-infected patients treated with LDV/SOF for 12 weeks. We assessed the rate of sustained virological response at 12 weeks post-treatment (SVR12), incidence of adverse events, and serum markers of hepatocellular carcinoma (HCC).
Results
Among the 1461 patients included (mean age, 69 years; 29.5% aged > 75 years; cirrhosis, 23.8%; history of treatment for HCC, 10.9%), the overall SVR12 rate was 98.4% (1438/1461). Factors associated with treatment failure were cirrhosis (odds ratio, 4.19;
p 
= 0.014) and resistance-associated substitutions (RASs) in NS5A at baseline (odds ratio, 7.78;
p 
= 0.0004). The SVR12 rate in patients with cirrhosis and NS5A RASs was 93.0% compared to 100% in patients without cirrhosis or NS5A RASs. In patients with SVR, the levels of alpha-fetoprotein (AFP), AFP-L3, and Mac-2 binding protein glycosylation isomer (M2BPGi) decreased from baseline to end of treatment (from 13.4 ± 37.6 to 6.0 ± 10.6 ng/mL,
p 
< 0.0001; from 2.2 ± 4.9 to 1.5 ± 6.3%,
p 
< 0.005; and from 3.6 ± 3.7 to 2.0 ± 3.5 cut-off index,
p 
< 0.0001; respectively). Adverse events were rare and not associated with age. No decrease in estimated glomerular filtration rate was observed in patients with baseline chronic kidney disease stage 3.
Conclusions
LDV/SOF therapy is highly effective and safe in elderly Japanese patients with HCV GT1, even in the presence of cirrhosis or NS5A RASs. Patients with SVR may have a lower risk of HCC.