13.09.2019 | Original Paper | Ausgabe 6/2019 Open Access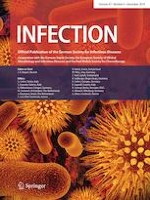 Real-world experience with dalbavancin therapy in gram-positive skin and soft tissue infection, bone and joint infection
Zeitschrift:
Autoren:

Selma Tobudic, Christina Forstner, Heinz Burgmann, Heimo Lagler, Christoph Steininger, Ludwig Traby, Mathias G. Vossen, Stefan Winkler, Florian Thalhammer
Introduction
Gram-positive bacteria are among the most important human pathogens associated with community-acquired and health-care-associated infections [
1
]. The most common gram-positive infections, which remain a substantial challenge, include skin and soft tissue infections (SSTIs) and wound infections, bloodstream infections, pneumonia, osteomyelitis, vertebral osteomyelitis, infective endocarditis, and device-related infections [
2
]. Dalbavancin is a novel lipoglycopeptide approved by European Medicines Agency (EMA) and the US Food and Drug Administration for the treatment of acute bacterial skin and skin structure infections (ABSSSIs) in adults [
3
]. It is approved for the treatment of dalbavancin-susceptible gram-positive bacteria, including methicillin-resistant
Staphylococcus aureus
and strains with intermediate sensitivity to vancomycin [
4
]. In vitro studies showed good activity of dalbavancin against several gram-positive pathogens, including
Staphylococcus aureus
(
S. aureus
)
, Streptococcus agalactiae, Streptococcus pyogenes, Streptococcus anginosus, Enterococcus faecium,
and
Enterococcus faecalis,
although clinical data regarding the clinical outcome in enterococcal infections are limited [
5
–
8
]. Resistance to staphylococci is rare, being reported in less than 1% of isolates [
6
,
9
], but dalbavancin demonstrated poor activity against vancomycin-resistant
S. aureus
(VRSA) and no activity against VanA phenotype-resistant enterococci [
10
,
11
]. Dalbavancin exhibits linear, dose-dependent pharmacokinetics with an elimination half-life of approximately 346 h, allowing a prolonged interval between two doses [
12
–
15
]. The approved dosage for dalbavancin for adults with ABSSSIs is a two-dose regimen of 1000 mg on day 1 followed by 500 mg on day 8 and single use of 1500 mg [
3
,
8
,
16
]. Due additionally, dalbavancin dose-regimens used in our university hospital include a two-dose regimen of 1500 mg on day 1 followed by 1000 mg on day 14 [
17
,
18
], and a two dose-regimen of 1500 mg on day 1 followed by 1500 mg on day 8 [
7
,
16
,
19
,
20
]. The prolonged use of dalbavancin for several weeks is well established in our clinical setting [
7
].
In the present study, clinical outcomes and safety of dalbavancin in the treatment of gram-positive infections in adults, such as skin and soft tissue infection (SSTI), osteomyelitis, vertebral osteomyelitis, prosthetic joint infection and acute septic arthritis, were retrospectively evaluated.
Materials and methods
This case series was performed at the University Hospital of Vienna, Austria, from January 2015 to December 2017. After approval by the local ethics committee in 2017 (No. 1445/2017), we retrospectively screened all adult patients treated by at least one dose of dalbavancin for SSTI, osteomyelitis, vertebral osteomyelitis, acute septic arthritis and prosthetic joint infection. SSTI was defined as acute or chronic. Acute SSTI was defined as erysipelas, major abscess, traumatic wound or surgical site infection. Erysipelas was defined by physicians using clinical and microbiological criteria. The need of a patient informed consent was waived by the local ethics committee due to the retrospective nature of the present study.
Patient demographics, causative pathogens, antimicrobial therapy employed in the treatment, and overall clinical outcome as judged by the investigators were collected. Dalbavancin data included indication, treatment regimen (regimen 1: 1000 mg on first day and 500 mg every 7 days, regimen 2: 1500 mg on first day and 1000 mg every 14 days, regimen 3: 1500 mg on first day, and on day 8 and in individual cases repetition of 1500 mg on days 56 and 63), duration of therapy and reporting of side effects [
7
]. The duration of therapy for a single regimen was calculated using the number of administrated dalbavancin doses: time (weeks) for regimen 1 = number of administrated doses × 1; time (weeks) for regimen 2 = number of administrated doses × 2; time (weeks). For regimen 3, the use of 1500 mg dalbavancin on day 1, followed by dalbavancin 1500 mg on day 8 was calculated as 8-week therapy. In case of prolonged therapy and use of 1500 mg on day 53 and day 64, duration of dalbavancin therapy was calculated as 16 weeks. The primary endpoint was defined as clinical cure or failure. Clinical cure was defined as resolution of all clinical signs and symptoms of infection, no additional antibiotic therapy required for the indication initially treated with dalbavancin and no microbiological relapse during the follow-up period of 6 months after completion of treatment. Failure of dalbavancin therapy was defined as no clinical improvement or worsening of current infection or new/recurrent signs and symptoms of infection requiring either a change or addition of antibiotic therapy, or microbiological relapse within 6 months after completion of (initial) treatment [
7
]. Change of antibiotic therapy was stratified by cause: no clinical improvement, side effect and antibiotic de-escalation to an oral drug. As secondary endpoint, number of patients (%) with clinical failure under dalbavancin therapy but resolution of clinical symptoms after antibiotic change in follow-up of 6 months was determined. Further secondary endpoints were defined as duration of dalbavancin therapy in weeks, number (%) of patients treated with combination therapy, number (%) of patients treated with dalbavancin as sequential therapy and side effects. Creatinine (mg/dl) as a measure of kidney function and liver enzymes (GPT and GOT, U/l) as a measure of hepatotoxicity were monitored at least at the beginning and the end of the dalbavancin therapy (7–14 days after last dose). Dalbavancin outcome was stratified by the causative pathogen isolated at the site of infection.
Results
Discussion
In conclusion, we report excellent safety and high clinical effectiveness of dalbavancin for acute gram-positive infections primarily acute SSTI, acute septic arthritis, acute osteomyelitis and vertebral osteomyelitis. In patients with biofilm-associated infection (chronic infection or joint prosthesis), source control was absolutely necessary for treatment success.
Acknowledgements
Open access funding provided by Medical University of Vienna.
Compliance with ethical standards
Conflict of interest
The authors declare that they have no competing interest.
Open Access
This article is distributed under the terms of the Creative Commons Attribution 4.0 International License (
http://​creativecommons.​org/​licenses/​by/​4.​0/​
), which permits unrestricted use, distribution, and reproduction in any medium, provided you give appropriate credit to the original author(s) and the source, provide a link to the Creative Commons license, and indicate if changes were made.